This is an archived article and the information in the article may be outdated. Please look at the time stamp on the story to see when it was last updated.
O'FALLON, Mo. — A Missouri father turned in his own son to authorities after finding child pornography on his son's phone.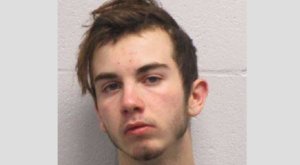 Andrew Spensberger, 17, is now facing child pornography charges after being arrested in O'Fallon, Mo., a suburb of St. Louis.
Spensberger's father, Paul, took his son's phone away on Dec. 30 while punishing him for other bad behavior, FOX 2 in St. Louis reported. That's when he discovered images of a sleeping nude 2-year-old on the device.
O'Fallon police said the child was a relative of Andrew's girlfriend.
DailyMail.com said it spoke to Andrew's father Paul. According to the publication, Paul said his son told him he was planning to sell the pictures to a classmate he believes is a pedophile. Paul later told FOX 2 in St. Louis he did not speak to Daily Mail. FOX 4 is working to clarify.
"He feels like s***. He feels remorse and he is scared, he's facing time in prison," Paul is quoted on DailyMail.com. "I could go and get him but he needs to learn."
Andrew remains in a county jail on $10,000 bond.
According to Daily Mail, Paul said he believes his son that he was going to try and sell the pictures, and wasn't interested in the photos for himself. Click here for more from DailyMail.com about the conversation it says it had with Paul.