This is an archived article and the information in the article may be outdated. Please look at the time stamp on the story to see when it was last updated.
LEE'S SUMMIT, Mo. — The mother of a teenager killed in a deadly crash wants the person charged in his death to know that she supports him.
Jackson County prosecutors charged Collin Carter, 18, with two counts of involuntary manslaughter and second degree assault on Monday. The charges are in connection with a deadly crash that killed two Lee's Summit teenagers on February 1.
Nathan Giron, 18, and Courtney (Tanner) Rardin, 18, died in the crash on Pryor Road where the police report says that Carter may have been driving between 80-100 miles per hour when he lost control, fishtailed, skidded into oncoming traffic, and rolled over after colliding with another vehicle.
Hayley Lewis' son Tanner died in that crash. She says Carter, who was driving the car at the time, was like another son to her.
She says she will continue to support Carter, even after prosecutors charged him in connection with the death of her son.
"He's in a terrible, terrible place and it breaks my heart, and you know even when he woke up from the coma it took her many days to even tell him what had happened," Lewis told FOX 4.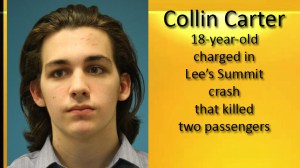 She says that time behind bars will only destroy Carter, and doesn't want him to go to prison for what happened.
"I'm here for Collin and his mom, and no more lives need to be destroyed, period," she said. "I feel no anger whatsoever to Collin because, like I said, it could have been any of them, and I see him often and he's not ever going to be the same."
"They are dumb teenage boys that think they are invincible, and that's why I think sending him to jail is only going to destroy him more than he already is, and he is destroyed," Lewis continued.
According to online records, no court dates have been set yet in the case. As a condition of his bond, Carter's been ordered not to drive.