This is an archived article and the information in the article may be outdated. Please look at the time stamp on the story to see when it was last updated.
CLAY COUNTY, Mo. — The mother of two girls found dead outside of their home on Independence Day is sitting in jail on Thursday night, but not for charges related to their deaths. Jenna Boedecker Ribando is being held on domestic violence charges for allegedly throwing a brick at her husband and crashing an SUV into a pickup truck.
Court documents say she and her husband got into an argument at about 11 p.m. on July 3. Her husband told detectives he tried to leave their home when Ribando threw a brick at him, and then she drove her Jeep Patriot at a Ford F-150, causing damage to both vehicles. Detectives found damage to both vehicles consistent with his account of what happened.
After that, her husband said he drove to his mother's house, telling police he stayed there until investigators contacted him on the afternoon of July 4.
As Ribando sits in jail, Clay County investigators continue to try and solve the mystery surrounding the death of her daughters, who were found hours after the alleged domestic violence incident.
Family identified them as Goodknight Berretta June Ribando, who was born on Mother's Day and was 7 weeks old, and Ireland Autumn Jane Ribando, who was 2 years old.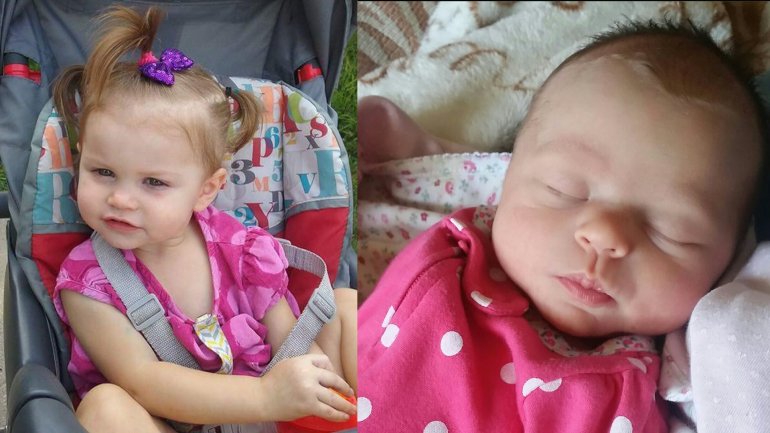 Sheriff`s deputies were called to the family's house off of 92 Highway and Cameron Road, just east of Kearney, shortly after noon on Wednesday. When they arrived, they found the sisters unresponsive with no evidence of how they died.
Officials say there were no apparent physical injuries to the girls. They didn`t appear to be hit by a car or shot, and it didn`t appear as if either one drowned. The Jackson County medical examiner is performing autopsies according to the Clay County Sheriff's Office.
Investigators previously said that Ribando was cooperating and foul play wasn't suspected. She currently only stands charged in the domestic incident from July 3, was arrested at some point on July 4, and is held in jail on a $75,000 cash-only bond.