This is an archived article and the information in the article may be outdated. Please look at the time stamp on the story to see when it was last updated.
INDEPENDENCE, Mo. — April is National Child Abuse Awareness Month. Sadly, a report of abuse is taken every 10 seconds in the United States. Now a metro mom fighting to raise awareness after losing her son to abuse.
We do want to warn, some of the details in this story might be tough to read.
At a home in Independence, a photo of three-year-old Ethan Gene Warner anchors nearly 200 blue pinwheels spinning gently in the breeze.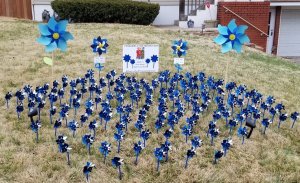 "He was a very outgoing little boy.  He was able to light up a room every time he came in.  Always had a smile on his face," Ethan's mother, Jennifer Warner, said.
In 2014, Jennifer Warner left her kids in the care of her then boyfriend, Jerry Penticuff.
She trusted him, but now realizes there were warning signs Penticuff was abusing her son Ethan.
"My son always ran into doors and stuff or fell and hit his head, unexplained bruises that didn't happen before he came around.  I never had my kids come over with bruises caused from each other.  He said they threw toys at each other, that now would be a red flag for me," Warner said.
On Oct. 29, 2014, the unthinkable happened.  Jerry called Jennifer at work, saying Ethan had fallen in the bathtub and was hurt.  She rushed home and was stunned at what she saw.
"My son was burned from his head all the way to his thighs," Warner said.
The water in the tub was so scalding hot, Ethan's skin was bright red and peeling.
"I broke down.  I couldn't even touch him," Warner said.
The toddler went to Children's Mercy Hospital, where he died four days later.
"It was hard.  Nobody should go through that, ever.  Especially not that way," said Warner.
His abuser is now behind bars serving just a 10-year sentence but could be eligible for release in 2022.
Now this mom is working to raise awareness of child abuse in memory of her son. Jennifer's donated movies to Children's Mercy.  She's raised money selling these pins, with donations going to the child abuse prevention association, "CAPA" Independence, and also donated blankets to the organization.
This month, she's taking part in the "pinwheels for prevention" campaign, with enough pinwheels in her yard to mark every child abused in a single day in the US.
"It can happen to anybody and it's hard," Warner said.
Jennifer wants her efforts to help keep Ethan's story, and  his memory, alive in hopes of saving other kids from abuse.
"That's what I'm trying to do is make something good out of it.  I just miss having him.  He was a very lovable little boy," Warner said.
If you suspect someone you know might be a victim of child abuse, you can call the National Child Abuse Hotline at (800) 4-A-CHILD.