This is an archived article and the information in the article may be outdated. Please look at the time stamp on the story to see when it was last updated.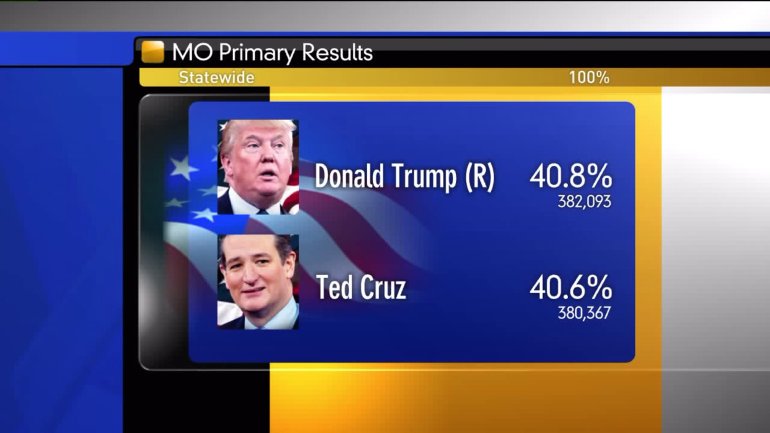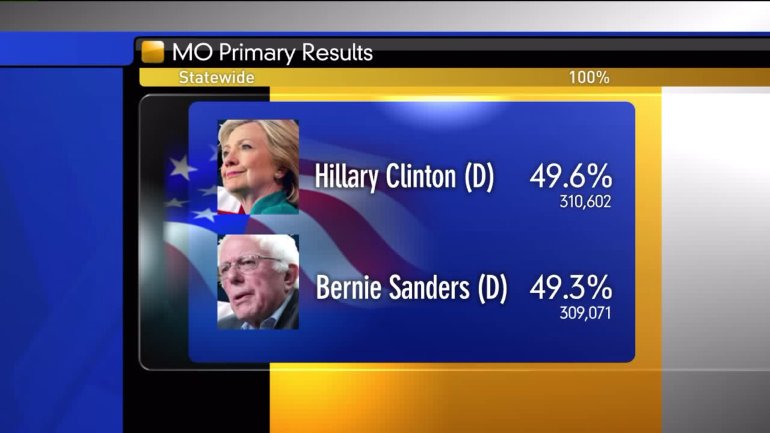 KANSAS CITY, Mo. — As the last vote counts rolled in, Hillary Clinton and Donald Trump appeared to win their respective party's presidential primaries in Missouri, but a recount may be ahead.
In the Democratic Primary, Clinton was narrowly ahead of opponent Bernie Sanders, collecting 310,602 votes to 309,071. Trump outgained Ted Cruz by a count of 382,093 to 380,367 in the Republican Primary.
On Wednesday afternoon, the Missouri Republican Party tentatively awarded its delegates, giving 37 to Trump and 15 to Cruz. With neither candidate receiving at least 50 percent of the vote, the party gave delegates to the winner in each district, and gave Trump 12 additional delegates for winning the state. Trump won districts 1, 2, 3, 6 and 8; Cruz won districts 4, 5, and 7 according to the party.
With both races within the one-half of one percent margin for a recount, the Associated Press did not declare a winner, should either Cruz or Sanders request a recount.  Under Missouri law, candidates can request a recount if they lose by less than 0.5 percentage points.  On Thursday, March 17, the Associated Press reported that Sanders conceded the primary to Clinton. Cruz has not said if he will seek a recount. Any recount would occur only after the vote is officially certified, which can take up to a month.
Missouri's presidential primaries appear to have set a new high mark for voter turnout. Nearly 1.6 million of Missouri's 4 million registered voters cast ballots in the Democratic, Republican and Libertarian primaries Tuesday. That equates to a statewide voter turnout of about 39 percent.
The previous high for a presidential primary was 36 percent, set in the 2008, when more than 1.4 million votes were cast. The 2008 primary also was the last time there were competitive races in both the Republican and Democratic parties.
Tuesday morning, the KC Election Board thanked voters for their patience during the primary, citing technical glitches.
On yesterday's election: pic.twitter.com/MlYOTPxMXz

— KC Election Board (@KCElectionBd) March 16, 2016
In Jackson County, the election board said they have 14 days to certify their primary election results. There were 25 provisionals still to be counted when FOX 4 inquired Wednesday afternoon. Ballots from military members and citizens oversees can be mailed until Friday and will then be counted.
Tammy Brown, Jackson County Election Board Republican Director, said there was a delay in counting the results because directors at four of the 184 precincts had to drive back to polling locations because they left the memory cards containing the results in the machines.  She says the poll workers are extensively trained but it had been a long day.
Donald Trump is the only candidate with a path to clinching the Republican nomination for president before the party's national convention in July.
But despite four more wins on Tuesday, the billionaire businessman still must do better.
Trump's rivals can only hope to stop him, forcing a contested convention with an uncertain outcome.
The AP delegate count has Trump winning 47 percent of the delegates awarded so far. That's not good enough — it takes a majority of delegates to win the nomination under party rules.
Trump needs to win 54 percent of the remaining delegates to clinch the nomination by the time the primary season ends on June 7.
He could reach the goal by winning most of the states that award all of their delegates to the winner.
Meanwhile, Bernie Sanders needs some big-time support, fast.
An AP analysis finds that he must win 66 percent of remaining delegates through June to erase Hillary Clinton's lead following a disappointing performance Tuesday. That's a herculean task requiring landslide-sized victories in big states and winning over superdelegates who have shown little interest in supporting him.
So far, he's been unable to do either.
Clinton's victories in four of five states Tuesday left her with 1,132 pledged delegates won in primaries and caucuses. Sanders has 818.
Clinton's lead is even bigger when including superdelegates.
When including those party officials, Clinton's lead is 1,599 to 844, giving her two-thirds of the number she needs to clinch the nomination.
Here are the results as they stood early on Wednesday morning:
Not seeing anything? Click on this link for election results