This is an archived article and the information in the article may be outdated. Please look at the time stamp on the story to see when it was last updated.
KANSAS CITY, Mo. - The mother of a 2-year-old boy and her boyfriend have been charged in connection with the child's death earlier this month.
Medical exams attributed the death to malnutrition and probable dehydration.
Jackson County Prosecutor Jean Peters Baker announced Monday that 25-year-old Saritza Serrano and 24-year-old Ruben Yepez-Ruiz each face charges of abuse or neglect of a child resulting in death.
Prosecutors have requested a cash bond of $250,000.
According to court records, Kansas City police responded on Nov. 16 to a home near 23rd Street and Norton Ave. and found a young child deceased.
First responders reported that the 2-year-old boy was severely malnourished and appeared to have been deceased for more than one hour prior to their arrival.
Responding officers and detective said the victim's cheeks were sunken in as well as the stomach where his ribs were easily visible underneath the skin.
An examination by the Jackson County Medical Examiner's Office found the victim's cause of death to be Severe Malnutrition.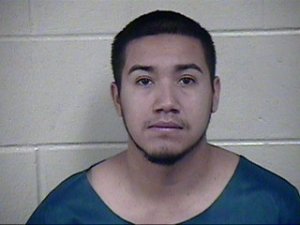 Serrano said the child and another child live in the home, where she and her boyfriend, Yepes-Ruiz, lived. She said the victim had been sick for three weeks.
The door to the bedroom the victim was found in had a lock on the outside of the door which would not allow the door to open from the inside, according to the probable cause statement. A hook latch was also on the outside of the door preventing the door to open from the inside. The closet in the room the victim was in had apparent human feces on the floor and ceiling. Apparent finger streaks made with feces were also observed in the closet as well as feces or blood observed on the wall next to the toddler bed inside the bedroom where the victim was found.
The 25-year-old mom stated she didn't take the victim to a doctor or hospital when they were sick.
Yepez-Ruiz also stated he also took no steps to get the victim medical attention. He said he had not checked on the 2-year-old for three weeks prior to his death.