This is an archived article and the information in the article may be outdated. Please look at the time stamp on the story to see when it was last updated.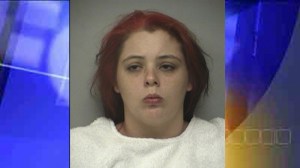 KANSAS CITY, Mo. — A Kansas City mother is charged in the shooting death of her five-year-old son.
Police say the boy was shot and killed in his home early Saturday morning.
On Sunday prosecutors charged his mom, 23-year-old Lisa Marie Hall, with two felonies. Hall is charged with unlawful use of a weapon and endangering the welfare of a child.
Kansas City police responded to the scene on Elmwood Avenue, near Independence Avenue, about 7 a.m. Saturday.
According to court records, witnesses told police that Hall and her boyfriend were drinking and had been arguing in a bedroom. A witness reported hearing a gunshot, and the mother ran from the bedroom carrying the child.
Hall's boyfriend told police that she was sitting on the bed and her son was standing next to him.
He said Hall pulled the gun from her waist and fired at him, and Hall's son fell to the floor.
Prosecutors have asked for a bond of $150,000.