This is an archived article and the information in the article may be outdated. Please look at the time stamp on the story to see when it was last updated.
SACRAMENTO, Calif. — A California mother is being both praised and berated on social media after posting a picture of herself with her three kids with the caption, 'What's your excuse?'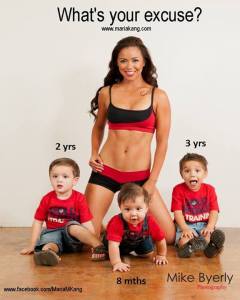 Maria Kang is obviously in good shape and looks fit in her micro-shorts and workout bra.  The picture she posted on her facebook page went viral and she has experienced unexpected criticism.
Some accuse her of 'fat-shaming' other women.
Kang is a fitness blogger, a business owner, a wife and mother of three young boys. She has won several beauty and fitness competitions. But, she says it hasn't been easy for her either.  Kang said she has a family history of obesity and said she has suffered from bulimia. The photo came after she lost the 40 pounds she gained during her third pregnancy.
Kang spoke to FOX 40 in Sacramento and said she never expected the millions of views, comments and shares that came after she posted the photo. She addressed her critics and said it is they who misinterpreted her message.
"It doesn't say, 'What's your excuse for not looking… like me. It never said that," Kang explained. "What I'm saying is, 'You can do you. You do you. You become the best person you can be."
Kang also wrote a response on her facebook page to those who complained about her post or accused her of having surgery.
"I won't go into details that I struggled with my genetics, had an eating disorder, work full-time owning two business', have no nanny, am not naturally skinny and do not work as a personal trainer. I won't even mention how I didn't give into cravings for ice cream, french fries or chocolate while pregnant or use my growing belly as an excuse to be inactive," she scolded.
Click on the link below from FOX 40 in Sacramento– for more of Kang's comments and some quick pictures of how she looked shortly after she gave birth to her 3rd child (in their video player.)
Read more: http://fox40.com/2013/10/15/whats-your-excuse-sacramento-mom-comes-under-fire-for-facebook-post/#ixzz2htEyTU00