This is an archived article and the information in the article may be outdated. Please look at the time stamp on the story to see when it was last updated.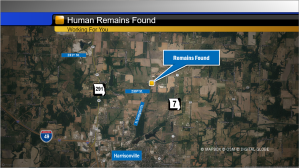 CASS COUNTY, Mo. — A mushroom hunter has found human remains, and now, investigators want to know the identity of the victim.
The hunter found the remains in an area north of Harrisonville, between 235th & 239th streets near Mopac Road.
Mopac road between 235th and 239th was closed Saturday while investigators work the area.
Cass County investigators said the remains were discovered around 7 p.m. Friday evening.  The sheriff noted that the area is near a popular dirt road between Harrisonville and Pleasant Hill, and is near a railroad track.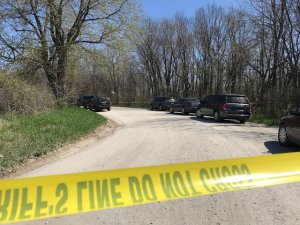 Medical examiners confirm the remains are human, but say they haven't been able to determine any identifying information about the victim, nor have they said when the victim may have died.
The sheriff's office has about 40 deputies and recruits conducting a ground search for evidence.
In April 2017, mushroom hunters discovered the remains of missing women Jessica Runions and Kara Kopetsky. Those remains were found in a rural location approximately 10 miles to the west of the location of the latest discovery — there's been no established link between the latest discovery and any current missing persons cases.
The Cass County Sheriff's Office says dozens of crews will be out most of Saturday conducting a search for evidence, and are asking people to stay away from that area.
FOX4 will have crews following this story through the day.