This is an archived article and the information in the article may be outdated. Please look at the time stamp on the story to see when it was last updated.
LOS ANGELES — A nail and grooming salon for men in southern California is expected to expand to 180 new locations throughout the United States soon.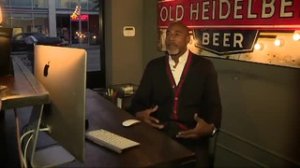 Michael Elliot, a Hollywood screen-writer, came up with the business idea after a trip to a nail salon filled with women.
"It was women everywhere, the canary yellow walls, this very hyper-feminine environment. And I felt out of place," said Michael Elliot, founder.  "If I can create a place where a guy that would never step foot in a nail salon would not only go to, but want to come back, I could be onto something."
Hammer and Nails Salon is designed to resemble a man-cave, with beer, televisions, and oversized lounge chairs. The decorations, lighting, drinks and even the cedar wood scent are meant to make the men feel more comfortable as they're getting manicures and pedicures.
Elliot's salon opened in 2013 and gained popularity after it was featured on 'Shark Tank.'
Just this year Hammer and Nails has sold 183 franchise licenses in eight different states.
"My mom would always say — you know — you look at a man's nails and you look at his shoes. And this is step number one of that. You know, it's very important to be groomed," said Alex Jawharijan, a Hammer and Nails customer.