This is an archived article and the information in the article may be outdated. Please look at the time stamp on the story to see when it was last updated.
KANSAS CITY, Mo. — A naked man who led police on a chase while driving an ATV is now facing charges for the incident.
Johnathon Menth, 27, of Excelsior Springs, was charged Monday in Clay County with sexual misconduct, property damage, tampering with a vehicle and burglary in connection with the incident that happened Sunday afternoon.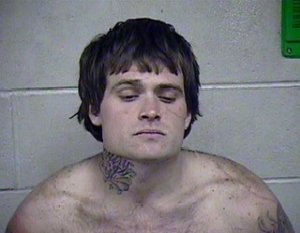 KC Police said they received a call at 2:18 p.m. Sunday about a "suspicious party" without clothes driving an allegedly stolen yellow ATV through yards.
According to court documents, the naked man — later identified as Menth — refused to stop and fled from police on the ATV through a field.
After driving through multiple fields, wooded areas, residential areas, city streets and sidewalks, police said Menth made his way to Interstate 435 where he began driving at a high rate of speed southbound in the northbound lanes of traffic. Officers followed in the southbound lanes in order to warn approaching traffic.
Menth then exited off I-435 onto 210 Highway and drove west to Searcy Creek Parkway. He then drove back east on train tracks south of 210 Highway.
Police said he then approached the area of the old Sam's Town Casino where he encountered officers waiting for him. When Menth saw the officers, he struck two railway junction boxes and was thrown from the ATV.
He immediately got up and tried to flee, but was taken into custody. He was taken to a nearby hospital for treatment.
A witness captured some of the ATV chase on video. See the footage in the video below.
According to court documents, Menth was the subject of a police search earlier in that day.
A Missouri State Highway Patrol officer saw a PT Cruiser with a flat tire speeding and tried to pull the vehicle over. The driver, later identified as Menth, allegedly took off, and the trooper started a pursuit.
After about 30 seconds, the chase was called off because of erratic driving. The vehicle was later found unoccupied.
On Monday, court records say Menth told KC police that he had been high at the time. He said he ran after abandoning the PT Cruiser and eventually found the ATV with the key in it.
Menth told police he stole the ATV and was trying to get back to Excelsior Springs. He told police he didn't stop during the second pursuit because he was "flipping" and couldn't stop, according to court documents.
The 27-year-old's bond has been set at $50,000 with the stipulation that, if posted, he does not go out in public "unless fully dressed."
Previous coverage: