This is an archived article and the information in the article may be outdated. Please look at the time stamp on the story to see when it was last updated.
FERGUSON, Mo. — The police officer involved in the shooting and killing of Michael Brown, who was unarmed when he was killed Saturday, has been identified as Darren Wilson, a six-year veteran of the Ferguson Police Department.
Ferguson Police Chief Thomas Jackson released his name to reporters Friday morning.
Ferguson remained at peace after night fell on Thursday for the first time since Michael Brown was killed. And protesters have learned that their demand to know the name of the officer who shot him may be met as early as Friday. FOX 4 sister station KTVI reports the officer's name will be released at approximately 8 a.m.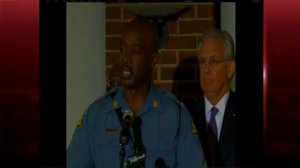 On Thursday, Governor Jay Nixon announced the new security arrangement in Ferguson would be led by the Missouri State Highway Patrol and specifically Capt. Ron Johnson, who is from Ferguson.
"We are going to have a different approach and have the approach that we're in this together," Capt. Johnson said.