This is an archived article and the information in the article may be outdated. Please look at the time stamp on the story to see when it was last updated.
KANSAS CITY, Mo. -- What if we told you C-sections are more preventable than you think? Or that more options exist about how you choose to bring your baby into the world?
Experts tell Fox 4 that women are really educating themselves on this topic -- so much so, the popularity of "natural" births is increasing at a rate of about 1 percent per year since 2010.
This shift is big on the celebrity circuit, too.
"Bachelor in Paradise" Season 2 winners Jade and Tanner Tolbert invited Fox 4's Dhomonique Ricks to their Kansas home to talk about this growing trend and why they chose the non-conventional route.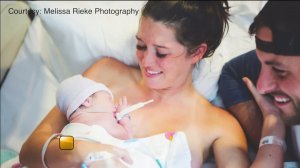 "There's so much excitement and empowerment. It's like the most beautiful thing when she comes out," Jade Tolbert said.
Let's go back to Aug. 17.
"I woke up at 3 a.m., and the bed was soaked, and I was like, 'Oh my gosh, what happened?'" Jade Tolbert said.
"So I was like, 'Are you kidding me?' I wasn't quite ready," Tanner Tolbert said. "We didn't have a bag packed. I wasn't quite mentally prepared."
Jade was in labor four weeks before her due date.
"I remember holding on to the handle on the truck, and I was just like, 'Ooooo.'" said Jade, recounting the morning of her delivery.
"When we get to the birth center, I figure we were ready to go. I thought my job was over. I got her there. I'm in the clear!" Tanner said.
But the journey was only beginning.
Jade was 36 weeks pregnant, and the birthing center requires mothers to be at least 37 weeks to deliver in its facilities.
So off to the hospital they went with birthing center midwife Cathy Gordon in tow.
"It was a whirlwind, but it was awesome." Jade said.
The couple are familiar faces in many homes.
The former stars of "The Bachelor" and "The Bachelorette" found love on the spin-off reality show -- "Bachelor in Paradise." Fast-forward two years and they are married, settled in Kansas and are parents to a healthy, three-month-old Emerson Avery.
Jade has an Instagram following of nearly a million people -- and she has been vocal about her decision to have a natural birth.
"I didn't want to be in a hospital where someone was going to pressure me to have an epidural or have any kind of intervention, or i was going to need a C-section because my labor was taking too long," Jade said.
She said she wanted to fully experience birth, but her decision came with a lot of judgment.
"They would look at me like I was crazy. They're like, 'Girl, you're going to want the epidural.'" Jade said.
"When Jade told me she wanted a natural birth, I was a little worried," Tanner said. "I'm not going to lie because I was a C-section baby, so I instantly was like worried. 'What if the worst happens, and we need to have a hospital right there?"
Tanner's concern's were valid, but Jade knew this was the right option for her.
"I just trusted her. I figured she knew her body better than I did," Tanner said.
"Birth is possible without intervention." said Cathy Gordon, certified nurse midwife and co-founder of new birth company.
Gordon delivered baby Emmy.
"Jade wanted a natural birth, and she got it. She was awesome," Gordon said.
She called it a paradigm shift: More moms wanting to feel involved in their labor and deliveries. The co-founder of new birth centers has delivered babies in 11 countries. Her book "All Babies Are Born" chronicles her experiences.
"The birth movement changed in the mid-90s, but it really came forward when Amnesty International produced this paper called 'Deadly Delivery,'" Gordon said.
The papers exposed deadly C-sections and bad birth outcomes, prompting women to become more involved in choosing how their babies came into the world.
"A large part of our population is women that have had births in the hospital and felt as if their voice wasn't heard," Gordon said.
We reached out to five popular birthing hospitals in our region to see what percentages of births are C-sections and epidurals. Three got back to us.
Starting with C-section rates, we found:
Shawnee Mission -- 28 percent
University of Kansas Hospital -- 25 percent
Truman Medical Center-Lakewood -- 24 percent
The average C-section rate across the United States is 33 percent .
"Our C-section rate is between 2 and 5 percent," Gordon said.
The reason Gordon's numbers tend to skew low is that most clients who go to birthing centers are classified as "low risk" and tend to be healthier in general.
As for epidural rates:
Shawnee Mission -- 85 percent
University of Kansas Hospital -- 59 percent
Truman Medical Center-Lakewood -- 86 percent
Cost is another big factor to take into consideration.
"The average cost of a normal, spontaneous, vaginal birth was $18,000." said Gordon, referring to the latest Truven Health Analytics report.
That price includes maternity care, delivery fees, facility care, the price of an epidural if needed and newborn care.
Compare that to the same package at a licensed, accredited and free-standing birth center. New Birth's price tag is $5,500.
"It's not that we give lower-rated care: it's that we're focusing on normal outcomes," Gordon said.
The $18,000 price tag at hospitals can jump anywhere from $25,000 to $50,000 if complications arise and if a C-section is needed.
Keep in mind: Insurance brings the price of these services down.
"I really just wanted to have what I felt like for me was the full experience of birth as a mother." Jade Tolbert said.
The Tolberts said they want a household of kids and plan to go the natural route again and again.
"It's one of the hardest things I've ever done, and I did feel a lot of pain, but it was so incredible. it was definitely worth it." Jade said.
"I have a lot of respect for her," Tanner said. "I don't know if I could have done it."
Accredited and licensed birthing centers, like New Birth, are capable of handling medical emergencies. Certified nurse midwives are trained in the same capacity as they are in hospital settings. They also have the same certifications and medications.