This is an archived article and the information in the article may be outdated. Please look at the time stamp on the story to see when it was last updated.
KANSAS CITY, Mo. -- One metro couple was rescued by a neighbor after a giant tree crushed their South Kansas City home when powerful winds, some reaching up to 60 miles per hour, swept through the metro Wednesday.
The towering tree snapped in half and toppled onto the home where Michael and Zellma Forte have lived for nearly 20 years. The couple was inside when it happened.
"Thank God we're alive," Zellma said. "I was by the door and all of a sudden, I hear a crush. Then all of a sudden, it just came down and it fell, it made me fall on the floor."
Michael, a stroke survivor, was also knocked to the ground and barricaded in his closet by a collapsing ceiling.
"I was afraid the whole house was just caving in on me," he said of that terrifying moment.
That's when a neighbor came to the rescue. Unable to open the front door, he smashed a window and crawled into the house.
"Yeah, I was scared at first going through that window," said the neighbor, who asked Fox 4 not to use his name. "The wind was still blowing and I'm like, something else might fall, you know?"
But he was determined to find Michael, whom he carried out to safety just as firefighters arrived.
"I was blessed that they did help out," Michael said, "because I couldn`t hardly get myself up."
The neighbor adding, "I just went in there like I got to get him out! That`s the right thing to do. I can`t leave him like that. If something happened to us, they might would`ve done the same thing for us."
As for the home, it's a total loss and now slated for demolition. Although they have insurance, the couple said the structure is so unsafe, they can't even get inside to collect their most precious belongings.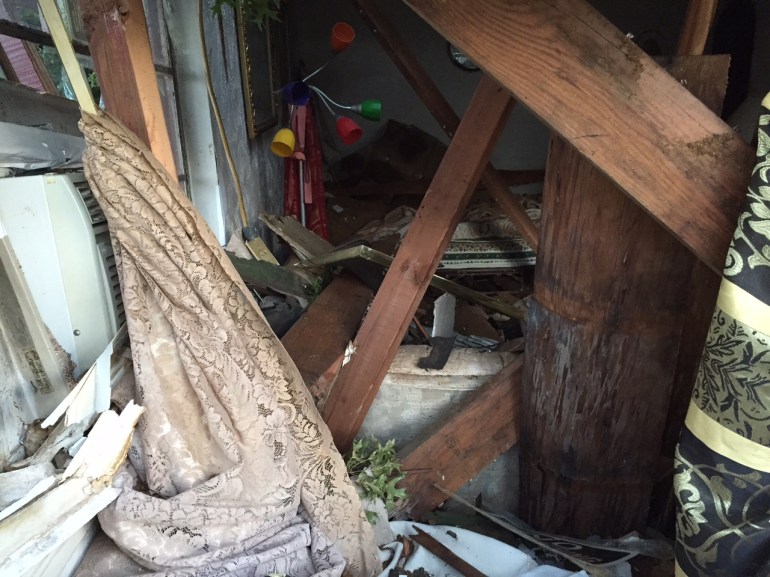 "Disaster," Michael said of the damage. "It looked like a tornado had come through."
But the couple said they are keeping things in perspective and counting their blessings.
"We`re out alive," Michael said. "That`s the main thing."