This is an archived article and the information in the article may be outdated. Please look at the time stamp on the story to see when it was last updated.
HIGGINSVILLE, Mo. — There's already a sense that something's missing in Lafayette County.
The city of Higginsville has lost two treasured residents. Bill and Janice Bright, who'd been married for 45 years, had lived in Lafayette County for only three years, but they'd made strong relationships quickly.
Neighbors said their vacation getaway to Table Rock Lake was due to be their final overnight trip, since they felt they were getting along in years, even though they were only in their mid-60s.
No one could imagine their innocent vacation would end the way it did.
Bob Beck said the news he got Thursday made his heart sink. He and his wife, Barbara, live on 24th Terrace, and they rented the home next door to the Brights.
Beck said he was at work at a clothing store in town when he got the news that his favorite neighbors had been killed when a duck boat had capsized on Table Rock Lake near Branson, along with 15 others.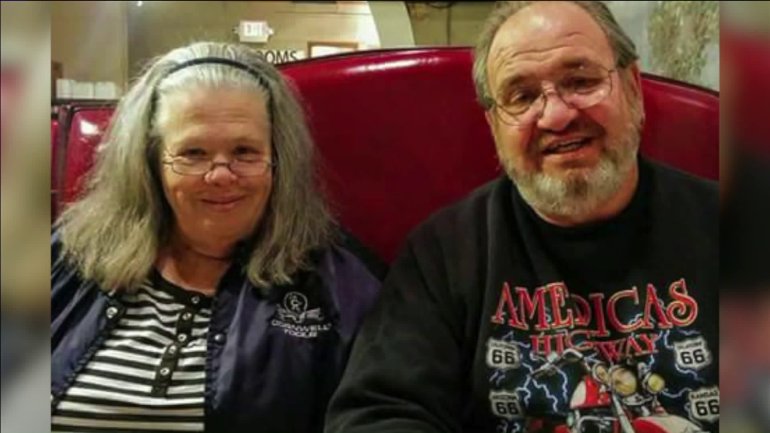 "I sat with them every day. I was such good friends with them," Barbara Beck said, gesturing to the Brights' front porch.
A large sign now hangs on the Brights' front door, reading, "In memory of Bill and Jan, RIP." Barbara Beck said she made the sign, and that the Brights were more like close friends than renters.
'I called (Bill) that night, and said, 'Are you down in Branson yet?' He said, 'We're just checking into the motel.' I said, 'Well, whatever you do tonight, have a good time'," Barbara Beck said.
"They were nice people. Real nice people, especially Jan, she was just wonderful," Bob Beck said.
Michelle Chaffer, the Brights' eldest daughter, said her mom and dad were grandparents to 16 kids, 10 of whom belong to Chaffer. The Becks said it's hard knowing this family has suffered such a loss, especially in a boat wreck that some say could have been prevented.
"I heard a report that said 30 minutes before, there's going to be a storm. I just can't imagine they went ahead and took that boat out. I have a hard time seeing pictures of that boat now and knowing they were on it," Barbara Beck said.
Bill and Janice Bright were members at Higginsville Baptist Church. One of the Brights' neighbors said church members are rallying an effort to help the couple's loved ones during a challenging time that would be tough for anyone to face.