This is an archived article and the information in the article may be outdated. Please look at the time stamp on the story to see when it was last updated.
KANSAS CITY, Mo. — The city is buzzing about neon signs that used to hang around town.
There aren't many of them on display around the metro, but that doesn't mean they're completely gone.
"It glows. It's just magical," Nick Vedros said, while basking in the glow of a large neon sign.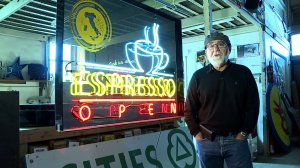 When those neon pieces of history light up, so does Vedros, who founded the Lumi Neon Sign Museum. It's believed to be the first pocket of preservation for Kansas City's history in neon.
His collection of neon keepsakes, most of which were rescued from metro businesses from days gone by, is now up to 20.
"I had no experience with neon or metal, but always appreciated the beauty of it," Vedros said Wednesday.
Vedros, who works as a freelance photographer, said his preservation effort began with the rescue one sign, which came from Crick Camera, a metro photo supply company. Vedros was offered the store's sign when it went out of business in 2017.
"I love vintage things. I didn't want this sign to go to the dump," he said.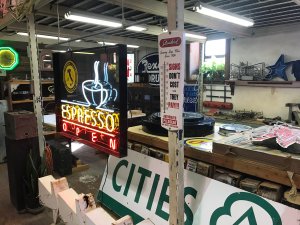 As it stands, "The Lumi," as Vedros calls the museum, has no home. Most of his advertising archive sits in an east Kansas City warehouse. Vedros said he believes they'd look even better in a permanent home.
"We think future generations are going to enjoy it as well as the people who grew up with those signs. They'll walk through the museum and get excited when they see something they grew up with," Vedros said.
That storage space Vedros uses belongs to Randy Steinmetz, a man with neon knowledge. Steinmetz, who operates Steinmetz Neon, has worked on thousands of marquee memories.
"I am so thankful Nick had the idea," Steinmetz told FOX4. "(The signs) are being taken away from our own town. It's so great to have someone who cares enough to keep them."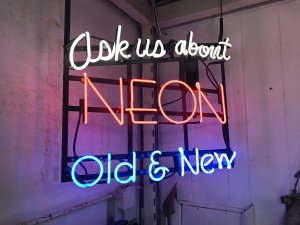 Most modern neon signs don't buzz. The old ones do. However, Vedros said Kansas City history fans are, and that`s what fuels his search for a permanent home for these vintage luminaries.
"Our goal is to rescue, preserve and restore and then, to rehang and illuminate," Vedros said.
In turn, he hopes to ensure Kansas City history never loses its glow. Neon sign museums are popular in Europe, and there are similar exhibits in Cincinnati and Las Vegas. Vedros is raising money to help establish a permanent location for the museum. You can learn more about that effort here.