This is an archived article and the information in the article may be outdated. Please look at the time stamp on the story to see when it was last updated.
TONGANOXIE, Kan. -- A 105-year-old woman is in good condition after firefighters rescued her from her burning home early Tuesday morning. The woman's relatives credit firefighters for saving her life.
Relatives say Ann Elizabeth Jarrett, 105, is spending the night in a Lawrence hospital for observation.
RELATED: 105-year-old house fire victim speaks out about her experience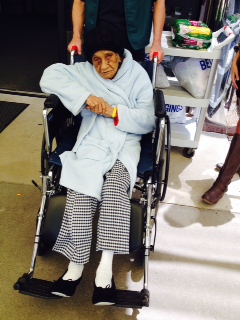 Family members are concerned that the elderly woman breathed in a lot of carbon monoxide during the fire.
Her nephew, Jackson Jarrett, lives next door and got up from bed just after 4:30 a.m. He smelled smoke and went outside to investigate. He says smoke was pouring from the roof of his aunt's house like a volcano.
"I was willing to go in except two of us inside the house dead is not going to be a good thing," Jarrett said.
There were some nerve-wracking moments as Jackson waited for firefighters to arrive. He opened the door to his aunt's house and could hear her crying for help. But he says the smoke was too thick for him to go inside.
"This was the thing that alerted me the most. She said, 'Oh God, somebody please help me!'" Jarrett recalled. "That's what was reaching into my heart and tearing me apart because I couldn't get in there to her. So the fire department was right on time."
Jackson Jarrett suffers from a lung disease, so he was thankful for the quick action of firefighters. Fire Chief David Bannett said this was his proudest day working with the Tonganoxie Fire Department.
"I have been on the fire department for 26 years, and this is one of the proudest days," he said. "I am very proud of my firefighters."
Ann Elizabeth Jarrett is known in this neighborhood as a Sunday school teacher. Relatives credit her long life to clean living. She does not smoke or drink, but at 105, she still handles all her personal affairs herself.
The cause of this fire remains under investigation. Family members tell FOX 4 News they suspect it may be related to an electrical problem in the home's attic.