This is an archived article and the information in the article may be outdated. Please look at the time stamp on the story to see when it was last updated.
KANSAS CITY, Kan.-- The Wyandotte Sporting Fields, a new soccer complex in Kansas City, Kan., was unveiled Thursday afternoon.
The 52-acre complex features 12 fields and is located on North 90th Street between State Avenue and Parallel Parkway, less than three miles from Children's Mercy Park where Sporting KC plays their home matches.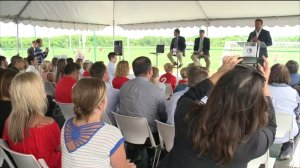 Sporting KC and the Unified Government of Wyandotte County look forward to the profound commercial and economic impact the complex will have in the area.
"I think if you look at weekends and what happens out here, the families are coming out and they're playing games in between, hopefully village west sees an uptick from this, but we anticipate KCK will see a significant uplift from this facility," said Jake Reid, Sporting KC President. "It could definitely expand. We've got options and I think based on the demand so far, that's something we've already started kicking around. Early going before it's open to talk about expansion, but something we all hope would come around."
Four of the 12 soccer fields have natural grass. The other eight have cutting-edge synthetic turf. The turf will accommodate all levels of play. The complex is already booked through the fall.