This is an archived article and the information in the article may be outdated. Please look at the time stamp on the story to see when it was last updated.
LEE'S SUMMIT, Mo. -- You may no longer have to wait nine months to see what your baby will look like.
A new app claims it can tell you not only generic information about your child's appearance, like eye or hair color, but also specific details like the kinds of food your child will like -- and even medical conditions your child might be at risk of developing.
And the app says it can determined all of this before your child is even conceived.
Does it sound too good to be true? FOX4 had a Jackson County couple put the "BabyGlimpse DNA Test" to the test.
Nick and Shadai King have a love story that spans more than 16 years. The two met at a Cinemark in Merriam and fell in love. Today, it's a love that's stood strong through many storms.
Their wedding day was a magical one for the high school sweethearts.
"I don't cry much, but I definitely did on my wedding day," Nick said.
Like a lot of newlyweds, the plan was to get pregnant right away and start living their "perfect" life together.
"I knew I always wanted to be a mom," Shadai said.
A year went by. Then another and another.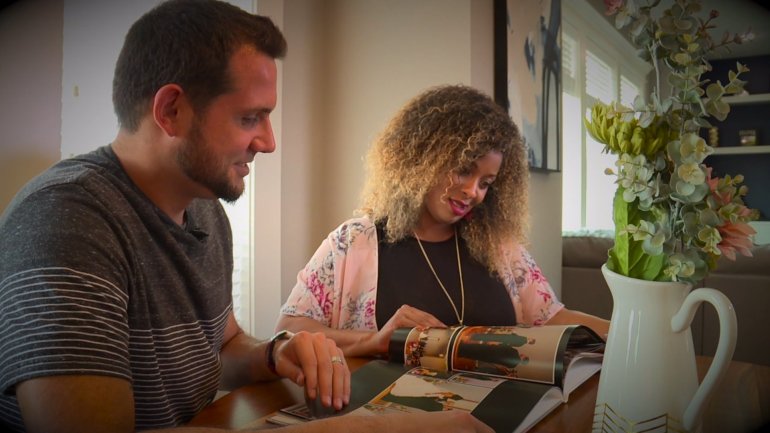 "It's hard to want something to the point of devastation," she said.
Five years of trying went by, but no baby.
"It is definitely an experience that you're not prepared for," Shadai said.
"We both got to a point for the last year and a half where we felt like we were kind of letting each other down, which wasn't the case at all, but that's hard to not feel that way," Nick said.
The two decided to make drastic changes. A weight-loss plan was part of the plan.
"I ended up losing about 85 pounds. Nick ended up joining me, and he lost about the same amount," Shadai said.
With the help of infertility specialists and two more years of trying, finally they got the news they had been waiting for.
"I freaked out. I started screaming. It was almost like, 'I don't know what to do with this information,'" Shadai said.
Seven years of trying, and finally -- success.
FOX4 caught up with the couple at their Lee's Summit home earlier this summer when Shadai was 30 weeks pregnant with a little girl. The couple put BabyGlimpse to the test.
"I'm anxious to see what it predicts and if it's accurate or not," Nick said.
"I really want her to be a good mix of both of us, but I love his eyes, so I'm like, 'Oh my gosh, I hope she has his eyes,'" Shadai said when asked what she hoped her daughter would look like.
The couple said they thought she would have Shadai's full lips and possibly red hair from Nick's side of the family.
Their DNA test was sent through the mail. About four weeks later, the metro couple got their results.
"I was like, 'Oh my gosh, I'm going to have a mini me,'" Shadai said when she saw the results.
BabyGlimpse predicted a baby with a medium-colored skin tone, dark hair and dark eyes.
On Sept. 16, little Olivia Grace arrived weighing 6 pounds and 14 ounces.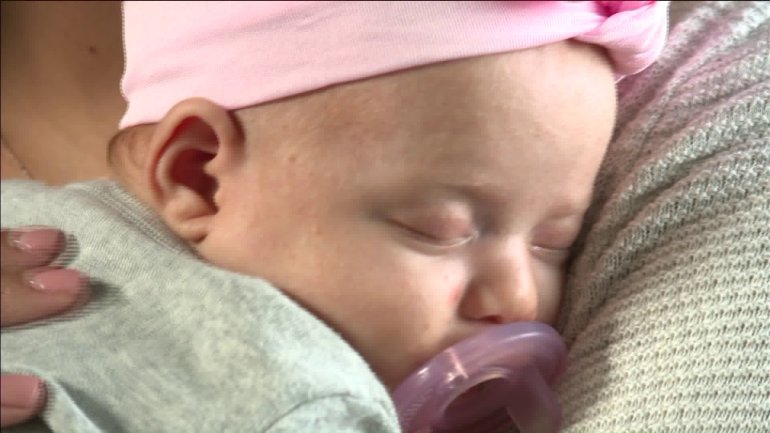 "I just can't believe that she's here. Even though I'm tired, I just still look at her in wonder," the new mom said.
Six weeks after Olivia's birth, FOX4 went back to check up on Mom, Dad and baby -- and to see how accurate BabyGlimpse was.
"We were really expecting her to look kind of like me, and then when she came out, we were like, 'Oh, all the lesser percentages -- she wants to be very unique,'" Shadai said.
BabyGlimpse said there would be a 69 percent chance Olivia's hair would be black, 24 percent brown or 4 percent blonde. She ended up having red hair, fair skin and dark blue eyes, which could change.
"For the cost compared to what you get, I was a little bit disappointed," Nick said.
The price? $200.
But the couple said the test did provide some interesting details. It even said she would prefer sweet over salty and got into specifics about mom and dad.
"Like one of the things they said was that I would be lactose intolerant. Well, to my knowledge, I've never had an issue with that," Nick said.
All in all, both agree it was fun but said, keep in mind that anything can happen.
"It just shows that DNA is crazy, and it just picks up traits from anywhere," Shadai said.