This is an archived article and the information in the article may be outdated. Please look at the time stamp on the story to see when it was last updated.
JACKSONVILLE, Fla. — On Monday, the Chiefs tweeted their decision to waive defensive tackle Roy Miller.
We have waived DT Roy Miller. pic.twitter.com/lqSzQQLuoF

— Kansas City Chiefs (@Chiefs) November 13, 2017
The recently released police report on the charges against Chiefs defensive tackle Roy Miller reveal details into what allegedly happened when he was arrested.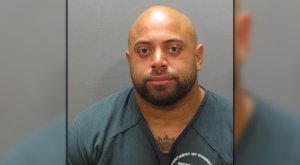 Roy Miller, 30, was arrested early Saturday in Florida on a domestic battery charge.
A police report states that officers were called to a home where police met Miller's wife, Nicole. She said she and Roy went on a date night to the Jacksonville Zoo. She said Roy left before her in an Uber. She later took her own Uber back home and found that he had not yet arrived.
When Roy came home, they began to argue about where he had been, which eventually escalated to a physical confrontation.
She said the 6-foot-1, 320 lb. Chiefs player grabbed her by the hair and began pushing her around, and at some point struck her in the face, leaving a small abrasion to her face and had a braid ripped out of the back of her head. Her shirt was nearly ripped completely off her body, the report says.
She said Roy threw her phone in the toilet and physically restrained her from retrieving it. When she was finally able to get the phone and call police, she said Roy called her son into their bedroom and barricaded himself inside.
The report says the two have been married for six and a half years. There were several children in the home at the time of the incident, the report says.
When police arrived, Roy was found sleeping in the master bedroom.
The report includes corroborating testimony from witnesses, including one who said she heard the couple arguing and brought the kids to the other end of the house. The witness then heard a door slam shut, and heard "thumping" coming from inside the room, as if someone was being hit, and heard Nicole tell Roy not to hit her again. She then saw Nicole come from the room with visible injuries, which she did not have before entering the bedroom.
Roy Miller was released from the Jacksonville Jaguars on march 12, after playing four seasons with the team. The Chiefs signed him on Aug. 2. He has six tackles and one pass breakup in seven games.
The Chiefs issued a brief statement Saturday, before waiving him two days later.
"This morning we were informed about an incident involving one of our players, Roy Miller. We are still in the process of gathering details on the situation. We will have no further comment at this time."
FOX 4 spoke to Hope House, a local domestic violence shelter, about the arrest. The CEO said she hopes the Chiefs will speak out against domestic violence and use their platform to condemn it.
"I understand they are a business and that they have to protect their business but they have a voice that no one else has," said MaryAnne Metheny, CEO of Hope House. "They have a voice and an opportunity for people who value what they do and who really want to be a part of their team wherever they are, they have the opportunity to spread the world and to say that domestic violence is not okay."
She said three women a day are killed in our country from domestic violence.
"They have a voice that I don't have, people will listen to them that are not going to listen to what I have to say," she said.