This is an archived article and the information in the article may be outdated. Please look at the time stamp on the story to see when it was last updated.
OLATHE, Kan. — A few more difficult details were revealed in an affidavit released on Monday, about the deadly shooting at the Olathe bar, Austins Bar & Grill, on Wednesday, Feb. 22.
Two of the victims, Srinivas Kuchibhotia, who was killed, and Alok Madasani, were found lying in the patio area by officers first to arrive at the scene.
Witnesses told officers that the suspect was a white male wearing:
jeans
a white t-shirt with military style medals on it
a white scarf around his head
The affidavit documents what the victims and witnesses told reporters and the public; that approximately 30 minutes before the gunfire, Adam Purinton began making comments to Kuchibhotla, Madasani and a third co-worker.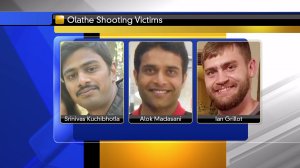 Grillot asked Purinton to leave, the affidavit says, followed by the same request from Austins' employees, who then escorted him out of the building.
The affidavit says Purinton returned approximately 30 minutes later. Witnesses noticed a handgun. After firing at Kuchibhotla and Madasani on the patio area, the affidavit says Grillot began to chase him. Grillot told police he thought the suspect was out of ammunition and chased after him.
"Purinton then turned and shot Grillot, striking him in the upper chest," the document says. He was also hit in the hand.
The affidavit says Kuchibhotla was shot at least three times. Madasani was shot once in the leg.
When officers spoke to him at the hospital, Madasani told them he remembered the suspect asking if their status was legal. He said he also remembered people saying, 'He's back and he has a gun!' just before the gunfire.
The Federal Bureau of investigation announced it will be investigating the shooting as a hate crime. Purinton appeared in his first court hearing last Monday. He is being held on a $2 million bond and is scheduled to be back in court March 9.