This is an archived article and the information in the article may be outdated. Please look at the time stamp on the story to see when it was last updated.
OLATHE, Kan. — Court documents reveal new details into the case against the former boyfriend of Ashley Harlan, a 23-year-old woman who was pregnant when she was murdered on Jan. 30.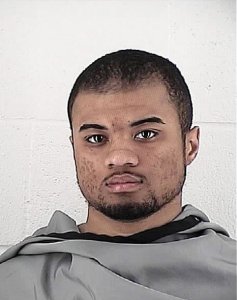 Prosecutors  charged Harlan's boyfriend at the time, 26-year-old Devonte Wash, with capital murder on April 26.
Harlan's friends said she'd called them, worried about Wash, the night before she died. Now, court documents reveal mounting evidence in the investigation.
Prosecutors say on the night of the murder, Wash called police stating he found Ashley's body inside a home at E. Westerfield Place and Prairie Street in Olathe. He told police his girlfriend was inside and had been shot.
Upon arrival, officers found Ashley had been shot three times, including once in the head. No weapon was found at the scene, but investigators found one bullet casing. Investigators also determined that her body had been moved.
Detectives were able to extract data from Wash's phone and discovered he had been deleting communications with a close friend leading up to the date of the murder.
Investigators learned that Wash had been contacting witnesses, interrogating them about their contact with Olathe police. Investigators also learned that Wash was attempting to gain knowledge about accessible cellular tower data about himself, as well as what was available to investigators.
While executing a search warrant at the home of Wash's friend — the one with whom he had been deleting communications on his phone — detectives recovered spent bullet casings in the back yard that were later determined to have been fired from the same gun that killed Harlan.
Investigators also recovered a cell phone video from Dec. 31, 2017 of Wash firing a gun at the friend's home.
It was also discovered that Wash had purchased a gun — capable of firing ammunition from the recovered casings — as well as a box of matching ammunition with cash at Cabela's in Kansas City, Kansas. Wash had previously told police he had never purchased nor owned a firearm.
Investigators also learned that Wash had rented a Uhaul box truck the day before the murder with help from his friend. The friend admitted to police that he helped with the rental, and said that Wash had told him not to tell police about the truck rental. A matching Uhaul truck was captured on a traffic camera entering and leaving an intersection about three blocks from the home where Ashley died in the window of time when the murder occurred.
Wash was arrested on April 26 and held on $5 million bond.
FOX4 featured Ashley Harlan's case on the ongoing podcast series Crime Files. You can find that episode and the full series here.