This is an archived article and the information in the article may be outdated. Please look at the time stamp on the story to see when it was last updated.
TOPEKA, Kan. — Known for their "God hates fags" slogan, members of Westboro Baptist Church will soon have to face the gay pride flag — or its colors — every day.
Aaron Jackson, a humanitarian who helped found Planting Peace, a charity that has in the past assisted orphanages, rainforests and helped with deworming programs, bought a house located across from the church six months ago for $83,000.
SEE ALSO: Other 'most clicked' stories
"The idea came right away when I saw the house for sale," said Jackson. "I was like, 'I'm going to turn it into an Equality House, and I'm going to paint it the color of the Pride flag."
Jackson said he wanted to paint the house as a not-so-subtle message to counter the anti-gay agenda of Westboro Baptist Church across the street.  Church members are known for protesting the funerals of American soldiers. A huge banner outside the church reads "God hates America."
But Jackson has a different message — a message of love.
"Just to show that where there's peace, there's love and it's time to stand up for equality," he said.
Jackson and a team of volunteers spent Tuesday painting the house. So far, Jackson said he's received nothing but support from the Topeka community.
"People keep coming out, honking horns, taking pictures," he said. "There has been no negative response."
Jackson told the Huffington Post he knew nothing about Westboro Baptist Church until it kept "popping up" in the news.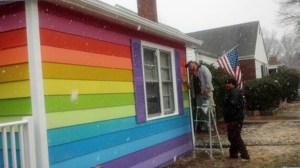 "And one night I wondered, 'Where is this church?' he said. "I got on Google Earth, and I was 'walking down the road,' and I did a 360 view. And I saw a 'For Sale' sign sitting in the front yard of a house. Right away it hit me, Oh my gosh, I could buy a house in front of the WBC! And immediately I thought: And I'm going to paint that thing the color of the pride flag."
As for Westboro Baptist Church? One of the more outspoken members, Shirley Phelps-Roper, said she loves it.
"I love it," she said. "What he does is he keeps the eyes of the whole earth on this message. Now everyday all people are thinking about is God will not have same sex marriage."
Some people, like passerby Chery Blevins, said the house is fun to look at.
"I love it, I love it, I do," she said. "I wouldn't do it to my house, but I think it's pretty."
Jackson said he's wanted to get involved in gay rights activism for some time, but wasn't sure how until the opportunity to buy the home presented itself.
See how you can get involved and help Jackson here.
---
Follow Rob Low on Twitter: @FOX4RobLow