This is an archived article and the information in the article may be outdated. Please look at the time stamp on the story to see when it was last updated.
KANSAS CITY, Mo. – A first-of-its kind program in Kansas City is helping young adults on the autism spectrum master the skills necessary to find a career path.
"Thirty-five percent of adults who have autism or deal with autism are unable to find full-time, meaningful employment," said Martha Jaynes with Easterseals Midwest. "So this program helps to overcome those barriers."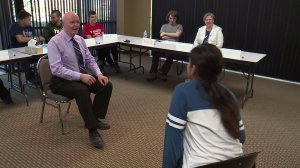 The 8-week program called "LINK" is designed for adults 18 and older who want assistance finding employment and support in developing vital workplace skills necessary to be successful.
"If you've been told repeatedly at that age that you're unemployable, that you're not going to succeed, that you don't have a future," Jaynes said, "when you land that job and you know that your career is set, it changes everything about your world."
Jaynes said each time someone lands a job, the Easterseals staff celebrates.
"We get goosebumps," Jaynes said. "We cry. We high-five over every job placement because you really are changing someone's life for the better."