This is an archived article and the information in the article may be outdated. Please look at the time stamp on the story to see when it was last updated.
KANSAS CITY, Mo. — A new restaurant just opened up in Kansas City near the intersection of 63rd and Troost. Friday was the soft opening for Cornbread Buffet — and it's serving up more than just carbs.
UMKC students can intern and earn college credits at the new restaurant while they get hands on experience and learn how to operate a restaurant from top to bottom.
Cornbread Buffet partnered with the Regnier Institute for Entrepreneurship and Innovation at UMKC's Bloch School. It's an idea Tony Mendes with the school worked on for two years.
"Restaurant entrepreneurs need a lot of help," said Tony Mendes, manager of the Regnier Institute for Entrepreneurship and Innovation. "They know about the cuisine. They know how to prepare food, but they really don't know the business side. That's why a lot of restaurant owners go out of business in a short period of time."
Students have to work at least 10 hours a week at the buffet for a full semester. They can do the internship for one or three credits.
"They learn the whole shooting match," Mendes said. "They learn everything from working with your supplier, preparing food, customer relations, how you go for financing, how you run your business."
Victoria Chestnut the first of five interns this semester and is earning credits as a payroll manager.
"They've been teaching me how to do everything," Chestnut said. "Hopefully you'll see my restaurant in about two years."
Cornbread Buffet's co-owner Ivan Marques said he plans to bring in people from different places that restaurant owners will have to interact with, like accountants, the fire marshal and health inspectors.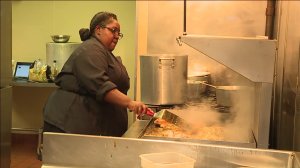 Cornbread Buffet is located in the Landing Shopping Center at 63rd and Troost. The space was vacant for years.
"We have several initiatives here at UMKC designed to look at how we stimulate economic growth, job development pretty much in communities east of Troost," Mendes said. "And we also have a partnership with the Full Employment Council with the city. So they're interested in helping people in the community learn the skills of working in a restaurant, and they offer a stipend that is part of the hourly rate that the students get."
Customers said the setup makes them feel good about their dining choice.
"Just seeing the entrepreneurship spirit in Kansas City is really inspiring," said India Bridgeford, a Cornbread Buffet customer. "This is what we need more of in Kansas City is just the communities coming together, making life easy and better for one another."
If you'd like to check it out, weekday buffets are $12.99 a person and $14.99 on weekends.