This is an archived article and the information in the article may be outdated. Please look at the time stamp on the story to see when it was last updated.
KANSAS CITY, Mo. -- Call it the price of progress.
The enrollment is doubling for UMKC's School of Computing and Engineering. Soon, a new $32 million building will offer up more space, technology and resources for the school's growing program.
To make way for the new facility, however, UMKC will have to tear down the historic Carriage House, an original part of the Dickey Mansion complex, which dates back to the school's first days in the 1930s.
The demolition for the Carriage House is set for Sept. 24.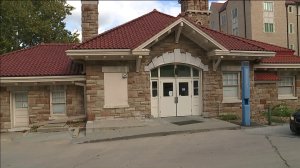 "It's a beautiful old building. I'll be sad to see it go," said John Widner, a UMKC student.
In a statement, school officials explained, "There is no cost-effective alternative."
The carriage house won't completely disappear. Parts of the iconic red-tiled roof will be re-purposed elsewhere, and the stone masonry will be for retaining walls and seating on campus.
Another student, sophomore Abigail Sizemore, said the historic campus architecture was one of the reasons she chose UMKC.
"I grew up in the historic northeast Kansas City," Sizemore said. "And if you're not very familiar with that area, a lot of it does have the older architecture, and it's very well known for that. It's kind of what makes up my neighborhood in my community. So coming to UMKC, that was one of the things that was very attractive to me. You could look at it and say, 'It's just a building,' but it's also so much more."