This is an archived article and the information in the article may be outdated. Please look at the time stamp on the story to see when it was last updated.
TORONTO – A blind woman is sharing her story after a new pair of specially made glasses helped her to see her newborn son for the very first time.
Kathy Beitz, 29, who started her losing her sight when she was a child, suffers from Stargardt disease, which is a genetic condition that causes macular degeneration or in other words causes her to have a large blind spot that takes up the majority of her sight.
"If I were looking at a person, their head and shoulders, that area, I don't see any of that," Beitz told the Canadian Broadcasting Corporation.
However, when Beitz tried on a pair of eSight glasses she discovered love at first sight when she saw her new baby boy for the very first time.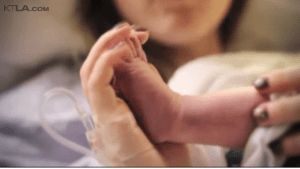 "I remember his little mouth and his gums and his itsy bitsy tongue when he would cry," she said. "I would have had to imagine what he looked like and I'm used to doing that, but it's a little bit heartbreaking having to do that for your own baby."
According to the CBC, the glasses were developed by an Ottawa-based company. The glasses use a technology which captures an image and a video and present it in real-time with specific enhancements for those with extremely limited vision.