This is an archived article and the information in the article may be outdated. Please look at the time stamp on the story to see when it was last updated.
KANSAS CITY, Kan. — A spokesperson from The University of Kansas Health System spoke on behalf of a doctor who works there, who is now a widow after someone killed her husband in front of their Brookside home Wednesday.
Tom Pickert, 39, had just returned home from walking his children to school when he was shot and killed.
Dr. Emily Riegel, Pickert's wife, is a palliative care doctor at The University of Kansas Health System, treating and caring for people with serious illness.
Jill Chadwick spoke for Dr. Riegel. You can watch it in the video player above. Chadwick said she spoke on the phone with Dr. Riegel, who wanted her to deliver a message.
"Her message starts with sincere appreciation and thanks by the media for your interest in her story and what has happened to her family. At the same time she's also asking for space," said Chadwick.  "She told me today that her little five-year-old was afraid to go out on the street because of all the news media and the trucks.
"She also told me, 'I want to tell Tom's story. She said, I want everyone to know the kind of person that he was and what he means to our family but she said, I just don't have the capacity to do it now," explained Chadwick.
Chadwick said she thought it was remarkable how strong Emily Riegel sounded, although obviously deep in grief.
"I could hear anger in her voice. I could hear concern for her children in her voice," said Chadwick.
A white van was seen leaving the scene after the murder, and hours later police said they located the van in Raytown. They also identified the owner of the van, David Jungerman, 79, and took him in for questioning about the deadly shooting. Police have not said if they believe Jungerman was driving the van or if it was someone else in the van registered to him.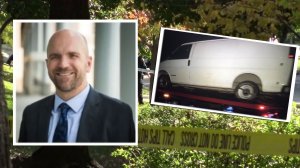 There is a connection between the victim, Tom Pickert, and Jungerman, but police have not identified Jungerman as a suspect.
In 2012, Jungerman shot two homeless men who he said broke into his business on Belmont and St. John. While Jungerman did not face any criminal charges, he was sued in civil court because one of the men lost his leg. The court sided with the homeless man, awarding him $6 million in compensatory and punitive damages.
Tom Pickert was one of the attorneys who represented the homeless man in this civil case. The day before he was killed, Jungerman was served with legal documents telling him the court was going to garnish his wages and seize properties he owned in Raytown and in KC's Northeast.
The case that prompted the lawsuit was just one of four times Jungerman had been investigated for either shooting or detaining trespassers with a weapon in the past three decades.
In 1990, Jungerman was arrested for holding juveniles at gunpoint he found fishing in his pond. Just a month after the shooting of the homeless men at his business in 2012, Jungerman shot another inspected intruder. No charges were filed.
Then in 2016, Jungerman was charged with Armed Criminal Infraction and Felony Burglary for intimidating a tenant with a weapon for alleged offenses in Nevada, Mo. Be sure to download our apps for alerts on this and other developing stories and follow us on Facebook. Fox4kc news apps:  iPhone and Android