This is an archived article and the information in the article may be outdated. Please look at the time stamp on the story to see when it was last updated.
KANSAS CITY, Kan. — Two people now faces charges for what police say they did Wednesday that led to a frantic search for a missing three-year-old girl.
Wyandotte County District Attorney Mark Dupree will hold a news conference late Friday afternoon, along with Ron Miller, U.S. Marshal for Kansas, and Major Curtis Nicholson, of Kansas City, Kan., to outline the charges against the 28-year-old man and 29-year-old woman.
Dupree says they stole a car at a Kansas City, Kan., gas station after the girl's mother's boyfriend ran inside to buy a cold drink for the child.
The little girl was asleep in the car and he left her there while he was inside. That's when a woman got in the driver's seat and sped away from the Valero at 7th and Riverview.
Police say the woman was caught on surveillance video buying items in the gas station, then walked outside and handed her male accomplice some items.  Then, they say, she hopped in the silver Ford Focus. Police say the woman quickly drove off with the little girl still in the back seat, and they say the man took off in another direction down 7th Street in a white commercial truck.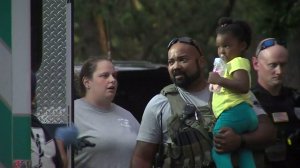 Police cordoned off the Valero gas station, quickly released surveillance of the two suspects to the media, and shortly after investigators say the driver of the missing silver car's cell phone pinged several miles away in Leavenworth County. She was found safe near the abandoned vehicle in a rural area of Tonganoxie.
FOX 4 is streaming the news conference at 4 p.m. and will have accompanying stories on their charges on FOX 4 newscasts, the fox4kc app, website and Facebook page.