This is an archived article and the information in the article may be outdated. Please look at the time stamp on the story to see when it was last updated.
BRANSON, Mo. -- Nine of the 17 victims killed Thursday night when a duck boat sank at Table Rock Lake were from the same family.
The victims' names haven't been released, but Missouri Gov. Mike Parson's office did confirm that nine of them were part of an Indiana family of 11 who were on the tourist boat.
Hear from one of the surviving family members, Tia Coleman, in the video above, courtesy of FOX4's sister station, WXIN, in Indianapolis. The other surviving family member is her nephew.
"My heart is very heavy. Out of 11 of us, only two of us surviving -- that's me and my nephew," Coleman said. "I lost all of my children. I lost my husband. I lost mother-in-law and my father-in-law. I lost my uncle. I lost my sister-in-law ... and I lost my nephew."
Coleman also said her husband would have wanted her to speak out about what she said happened before the accident.
She told WXIN that the captain of the boat told them, "Don't worry about grabbing the life jackets – you won't need them," so none of the family members grabbed them.
"However in doing that, when it was time to grab them, it was too late and I believe that a lot of people could have been spared," Coleman said.
She says there's not much that can be done.
"The only thing that I would like to be done, but can't, is to bring my family back," Coleman said.
Of the 17 who died, their ages range from one to 70 years old.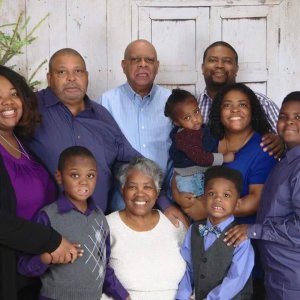 Missouri State Highway Patrol Sgt. Jason Pace said 14 people survived, including seven who were injured.
A spokeswoman for the Cox Medical Center Branson said four adults and three children arrived at the hospital shortly after the incident. Two adults are in critical condition and the others were treated for minor injuries, Brandei Clifton said.
Stone County Sheriff Doug Rader said Thursday that stormy weather likely made the boat sank. Another duck boat on the lake made it safely back to shore.
Steve Lindenberg, a National Weather Service meteorologist in Springfield, Missouri, said the agency issued a severe thunderstorm warning for the Branson area Thursday evening. Lindenberg said winds reached speeds of more than 60 mph.
Parson issued the following statement Friday morning:
"The reality of it is – we knew the storm front came through and it played a factor in that. It's just terrible circumstances and it's a terrible situation – and we don't know all the details yet – all the whys.  I'm sure we'll find that out in the days to come.  Right now it's just it's just about supporting the families in any way we can. Our thoughts and prayers are with them and that's where we are right now."
Rader said an off-duty sheriff's deputy working security for the boat company helped rescue people after the boat sank. Dive teams from several law enforcement agencies assisted in the effort.
Ride the Ducks Branson will be closed while the investigation is underway. The company issued the following statement Friday:
"We are deeply saddened by the tragic accident that occurred at Ride The Ducks Branson. This incident has deeply affected all of us. Words cannot convey how profoundly our hearts are breaking. We will continue to do all we can to assist the families who were involved. The safety of our guests and employees is our number one priority. Ride the Ducks will be closed for business while we support the investigation, and to allow time to grieve for the families and the community. Thank you for your support, and we ask that your thoughts and prayers be with the families during this time."