This is an archived article and the information in the article may be outdated. Please look at the time stamp on the story to see when it was last updated.
WICHITA, Kan. — A prosecutor says the stepmother of a 5-year-old Wichita boy whose body was found three months after he was reported missing is expected to be released from jail without charges.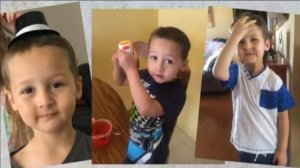 Sedgwick County District Attorney Marc Bennett released a statement Wednesday afternoon saying no charges have been filed in the death of Lucas Hernandez, whose body was found under a bridge May 24 on a gravel road in Harvey County.
Within hours of the discovery, the boy's stepmother, Emily Glass, was arrested and has been held since on suspicion of obstruction and interference of a law enforcement officer. Police had said Glass led a private investigator to Lucas' body.
Glass reported Lucas missing from their home on Feb. 17.
Bennett said investigators will continue to "follow up on newly developed leads" and that final autopsy results — including those from toxicology tests — are not yet available.