This is an archived article and the information in the article may be outdated. Please look at the time stamp on the story to see when it was last updated.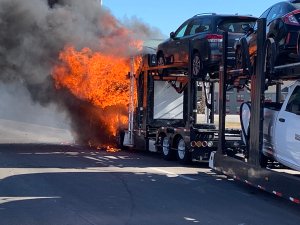 OLATHE, Kan. — No injuries were reported after a car hauler caught on fire Wednesday afternoon in Olathe.
The incident was reported just after 12:30 on southbound Interstate 35 near 119th Street.
The Olathe Fire Department said the engine of the truck caught fire and spread to a car it was hauling.
Both the truck and car were reported to be a total loss.
After the fire, firefighters used "damming and diking" to contain gasoline, which had leaked out from the car.
Damage is estimated to be over $100,000.
Olathe Fire said the cause of the fire is still under investigation.