This is an archived article and the information in the article may be outdated. Please look at the time stamp on the story to see when it was last updated.
KANSAS CITY, Mo. -- A Missouri lawmaker who called for the vandal of a Confederate monument to be hanged won't be punished. House Speaker Todd Richardson told reporters Thursday that the comment was inappropriate but said he won't take action against fellow Republican Rep. Warren Love, (R-Osceola) .
In August, Love expressed hope in a Facebook post that whoever vandalized the confederate monument at Springfield National Cemetery by throwing paint on it would be "hung from a tall tree with a long rope."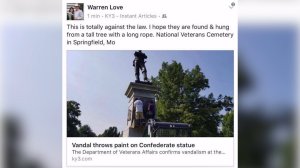 House Democratic leader Gail McCann Beatty was among lawmakers who said Love's words evoked images of lynchings of black people.
On Thursday she said she wanted a different outcome but added that she hopes the controversy had an impact on Love.
Love's comment on Facebook over the summer was: "This is totally against the law. I hope they are found & hung from a tall tree with a long rope."
"Veterans have been buried there since right after the Civil War, and the Battle Of Wilson`s Creek, they`re Union and Confederate, but this particular monument, basically had red paint thrown on it, so as I drove down there and I seen it, I thought you`ve got be kidding me that someone would go to a National Cemetery and do that," said Rep. Love over the phone with FOX 4's Melissa Stern in August.
"What I should have said was, and this is where I went wrong, I should have said there is a law against this, and hopefully they will be apprehended, and brought to justice, and prosecuted at the fullest extent of the law," added Rep. Love.
The lawmaker says he`s a member of both the Sons of Union Veterans of the Civil War and Sons of Confederate Veterans. His son John said he doesn`t agree with how his dad said it, but agrees that the person who vandalized the monument should be punished.
"I know dad is very into his history and the history of our country, and right now the political climate is very heated, the choice of words obviously wasn`t perfect," John said when FOX4 first reported the story in August. "When he sees that, it affects him, and I respect him for that, for being passionate about the history. But, in today`s day and age, when you say something, it`s out there, and you have to deal with the consequences."
Rep. Love says his comments were blown out of proportion, and that he's aware of people calling for his resignation.
"I`m not planning on resigning, you know, that was a criminal act, that monument desecration was a criminal act, and it needs to have some kind of a repercussion for that act, and I don`t apologize for calling that a criminal act, but the way I went about it, I do apologize," he said. "That was my blunder, I`m sorry for it, I apologize, and I would like to move forward, and hopefully people will understand what I really meant to say."