This is an archived article and the information in the article may be outdated. Please look at the time stamp on the story to see when it was last updated.
KANSAS CITY, Mo. — Alex Smith's time as a Kansas City Chief has come to an end.
Chiefs fans are waiting for his trade to the Washington Redskins to be finalized after the two teams agreed in principle to include him in a trade. As Smith goes, he leaves a strong legacy in Kansas City and with Chiefs Kingdom.
Smith was the team's leader. Fans held a love-hate relationship with the former top selection in the NFL Draft, cringing when his on-field efforts were subpar and beaming with pride when he served the public and metro charities with fervor and zeal.
All day Wednesday, the people he helped away from the field said farewell and thanks to a football friend who's been a big help.
You know Smith, the quarterback, who led the Chiefs to four playoff appearances in five seasons. You may not know Mr. Smith, the generous servant who loved the people of this metro.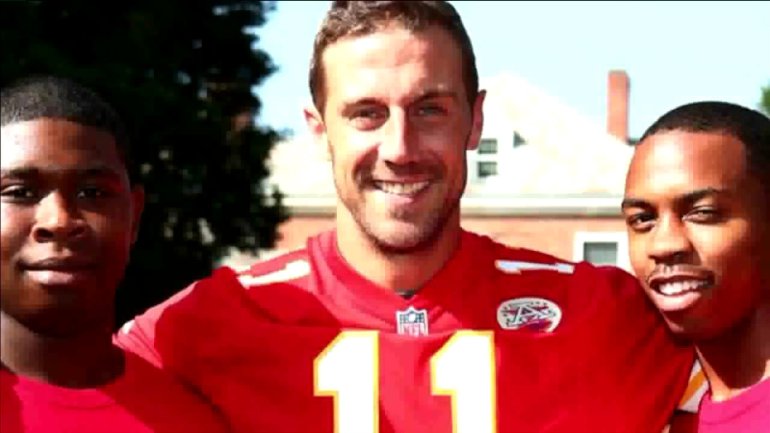 At Cornerstones of Care, leaders of the nonprofit said Smith was happy to get involved and help at-risk foster kids who will soon age-out of the foster care system.
"I was like, 'Alex Smith? Sounds familiar, but I don't know who he is,'" Tyra Collins confessed.
Collins, now 20, remembers the day Smith walked into her life. She's a participant at Cornerstones of Care, and she's become close friends with Smith and his wife, Elizabeth.
Cornerstones leaders contacted the Alex Smith Foundation, which is centered around similar goals. The Smiths became a regular at the group's success meetings, where they provided guidance for young people trying to plan a future.
"It means a lot that he takes the time out of his day to help kids in need and talk to people that are below him," Collins said. "It's his personality. If he's nice, he's nice. That's all it is."
Denise Cross, Cornerstones of Care CEO, said Smith's foundation went as far as to fund the group's 2016 trip to Washington, D.C. That's where at-risk teenagers met with then-first lady Michelle Obama and took part in her Beating the Odds forum at the White House.
"What always struck me about him is his passion," Cross said. "It's very easy to talk with him. I think the youth were easily engaged with him and Elizabeth. He asked them about their goals and were they on track and are they keeping their nose to the grindstone if you will."
Smith's activity and philanthropy in the Kansas City community led the Chiefs franchise to nominate Alex for the NFL's Walter Payton Man of the Year Award. That prize for high character athletes will be presented Saturday night, the day before Super Bowl LII in Minneapolis.
Closer to home, Ken Kantner sees Smith all the time, serving him pizza at Minsky's near the Country Club Plaza. Minsky's helped raise almost $50,000 for the Alex Smith Foundation.
Kantner, who manages the Minsky's store at 51st and Main, remembers last year, when a family of three brothers from the metro won dinner with Smith as part of the pizza chain's "Slices with Smith" contest.
"We thought he was genuine, a really nice guy," Kantner said.
Kantner shared stories about Smith's approachability and witnessing him spending time and signing autographs with random fans in the popular restaurant.
"We lost a neighbor. We lost a good guy, a good member of our community," Kantner told FOX4, "somebody who really cared about Kansas City and the people in Kansas City. He wasn't just another athlete who was here for a paycheck. He really cared about the people of this town."
Smith's new deal with Washington is said to be a four-year extension on top of the one year Smith had left with in his contract with the Chiefs. The trade with the 'Skins won't be official until March 14, the date when NFL teams are permitted to finalize trades.