This is an archived article and the information in the article may be outdated. Please look at the time stamp on the story to see when it was last updated.
NORTH KANSAS CITY, Mo. -- Kevin Nguyen likes a challenge. He has a knack for speech, debate and theater, but he also suspected he might have all the right moves on the dance floor.
With the encouragement of his friends and classmates, Nguyen earned his spot on the dance team, making him the first male member of the squad in school history.
"My first game I didn't want to perform pre-game because I was scared people were going to judge me or make fun of me," Nguyen recalled. "And then I went out there, and I performed in pregame and the crowd went wild. It was an amazing experience."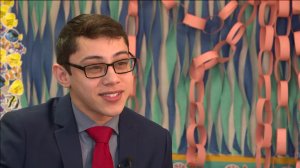 Nguyen's entire high school career has been an amazing experience. With several awards for his debate and theater skills, the senior added "smashing stereotypes" to his resume by winning a spot on the dance squad.
"It's just so exhilarating because, you know, you're the only male out there," Nguyen said. "And, yes, a lot of people are there to see the whole entire team, but a lot of people there are very supportive of the fact that there's a male dancer."
Nguyen's speech and debate teacher, Amanda Dolinger, admires the teen's bravery.
"It's OK for him to set up, like, this is what makes me a man, not what society thinks makes me a man," Dolinger said.
In the fall Nguyen plans to study criminal psychology in Northwest Missouri State University and also hopes to play the clarinet in the marching band.