This is an archived article and the information in the article may be outdated. Please look at the time stamp on the story to see when it was last updated.
MARYVILLE, Mo. — Police in Maryville, Mo., have arrested and charged two men in connection with the death of 21-year-old Tomarken Smith — a student at Northwest Missouri State University.
Prosecutors charged Kevin Dell Mooney, 31, and Tony M. Overlin, 23, with second degree murder.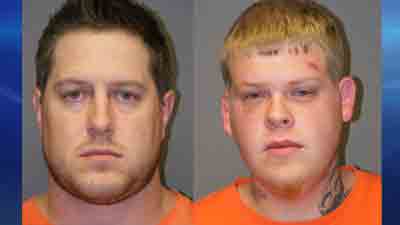 Police said Mooney and Overlin were involved in an argument with Smith at Molly's bar around 1:05 a.m. on Friday. Shortly after, around 1:20 a.m., police said the two men assaulted Smith at the intersection of North Market and East Fourth streets.
Police said Smith was knocked to the ground, hit his head and lost consciousness. Officers said Mooney and Overlin were seen running from Smith after he was knocked to the ground. They were taken into custody within minutes of the assault.
Smith was taken to St. Francis Hospital in Maryville, where he died a short time later.
Smith was from St. Louis, Mo. He was a senior per-professional studies major at NWMSU. He minored in coaching.