This is an archived article and the information in the article may be outdated. Please look at the time stamp on the story to see when it was last updated.
KANSAS CITY, Mo. — Bob Gillespie might not be the person you would imagine shopping inside an organic hemp shop, but he's precisely the type of customer willing to buy CBD oil now that it's legal in both Kansas and Missouri.
"When I first started in the CBD business about three years ago, you didn't see the Bobs coming in, but now people are more educated," said Eric Banks, the owner of Organic Hemp Botanicals on 103rd and State Line.
Gillespie had only recently heard about the pain-relieving properties of CBD oil from a friend and is now determined to find out if it can help his wife.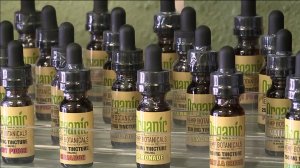 "They don't want to do surgery on her because she's got health problems," Gillespie said. "So we're hoping this will alleviate a lot of her aches and pains."
Kansas just recently approved the sale of CBD oil with zero amounts of THC, the active ingredient in marijuana that gets people high. CBD oil is an extract of the hemp plant that many believe has a wide range of healing properties for people — and even dogs.
"Yes, it might sound too good to be true, but it isn't," said Alex Strawder with Brookside Barkery and Bath. "It does help with everything from anxiety to pain to depression."
As with all supplements, you should check with your doctor before trying CBD oil as it can have an adverse effect with some other medications.