This is an archived article and the information in the article may be outdated. Please look at the time stamp on the story to see when it was last updated.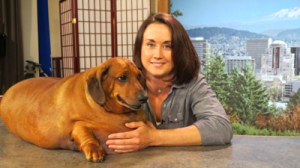 PORTLAND — The photos truly tell the story of a dachshund forced on a diet after weighing a whopping 77 pounds.
According to KGW-TV, Obie became an internet sensation for being morbidly obese and could barely move.
The story came to light in August after his elderly owners relinquished him near Puyallup, Wash.
In six months, Obie was able to shed 37 pounds and will soon have surgery to remove extra skin from his rapid weight loss.
His new owners say the pup is doing great and will continue to get regular walks and kept on a healthy diet.
The weight of an "average" Dachshund is 16 pounds, veterinarians say.