This is an archived article and the information in the article may be outdated. Please look at the time stamp on the story to see when it was last updated.
OVERLAND PARK, Kan. — One person was killed in an officer-involved shooting Saturday evening.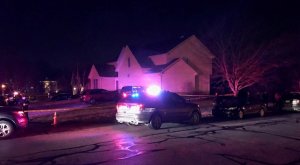 Police told FOX 4's Shayla Patrick that officers responded to an area near W. 149th Terrace and England Street just after 7 p.m. in regard to a person in danger of harming himself.
While events are still unclear at this time, the subject was eventually shot and killed by an officer. Police told FOX 4 the subject did not fire a weapon at officers. Police have not said whether or not that person was armed.
Police did not release the subject's identity.
A heavy police presence was at the scene as well as a large crowd gathered outside visibly upset.
"It's a large presence because there's, you know, the crime scene folks will come out and do all of the crime scene and then the different investigators will come out and interview everyone involved, so it's just, what you really have is two full teams here. The Overland Park team holding the perimeter at this time, and then you have the Johnson County officer-involved shooting team," Captain Keith Jenkins with Overland Park Police said.
Overland Park Police released a statement on Facebook later Saturday.
On January 20th, 2018 the Overland Park Police Department responded to the 9300 block of W.149th Terrace reference a welfare check of a suicidal male. As the responding officers approached the residence to make contact, the garage door opened and a vehicle exited the garage, moving rapidly toward one of the responding officers. The officer discharged his service weapon striking the male driver. The driver died at the scene.

The Johnson County Officer Involved Shooting Investigation Team (OISIT) in conducting the investigation. The officers were uninjured and the officer involved was placed on administrative leave pending the investigation. The deceased male name is not being released at this time. If you have any information or witnessed this incident you are asked to call the Overland Park Police Department at 913-895-6300 or the TIPS Hotline at 816-474-TIPS.
Police will continue to investigate this incident.
[protected-iframe id="a477a245d7d94b940719a382bc4b9896-28016812-98078564″ info="https://www.google.com/maps/embed?pb=!1m18!1m12!1m3!1d3106.931591787236!2d-94.69613918465083!3d38.856922879576935!2m3!1f0!2f0!3f0!3m2!1i1024!2i768!4f13.1!3m3!1m2!1s0x87c0c056d45181db%3A0xdad7efc8836d5b8f!2sW+149th+Terrace+%26+England+St%2C+Overland+Park%2C+KS+66221!5e0!3m2!1sen!2sus!4v1516500395447″ width="100%" height="450″ frameborder="0″ style="border: 0;"]