This is an archived article and the information in the article may be outdated. Please look at the time stamp on the story to see when it was last updated.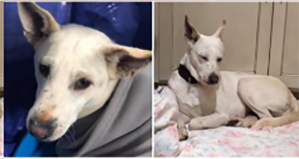 LEAWOOD, Kan. —  Thanks to the Leawood and Overland Park Animal Control Officers, Hope has been found and is safe.
The Leawood Police Department said Wednesday that they were made aware of this incident from the Kansas Department of Health and Environment.
According to KDHE, one dog out of a group of 26 dogs that were imported from Egypt by Unleashed Pet Rescue and Adoption in Mission, Kansas, tested positive for rabies. That dog was euthanized.
Police tell FOX4 the missing dog was with a foster family in Leawood. They said the dog that escaped was not the one who tested positive to rabies but it might have been exposed to it. Out of an abundance of caution, they want to locate all dogs.
One of the dogs escaped from the group in Leawood and was last seen Monday in the area of 103rd Street and Mission Road.
Unleashed Pet Rescue said that the dog that had rabies was inside its foster home the whole time. The CDC and KDHE are working with Unleashed to get all of the dogs back to quarantine them and give them booster shots.
Unleashed Pet Rescue tells FOX4  they followed all protocols to get them over to the United States.