This is an archived article and the information in the article may be outdated. Please look at the time stamp on the story to see when it was last updated.
CLINTON, Mo. — Officials think a database error might be to blame for the 911 mix-up that sent Clinton police to the wrong home, ending in one officer killed and two others injured.
Kenneth Scott, the chairman of the Henry County 911 Emergency Communications Board, said in a statement the 911 call that spurred dispatching Officer Christopher Ryan Morton and other officers came from a landline phone and lasted about 45 seconds.
But the call-taker wasn't able to speak to anyone directly. All the 911 operator could hear was women yelling, so the call-taker was dependent on the technology and database behind the 911 center to figure out where to send officers.
Morton was killed Tuesday night while responding to that 911 call, originally traced to a Clinton home on Grandriver Street. When officers entered the home, they encountered 37-year-old James E. Waters, who fatally shot Morton and injured two other officers.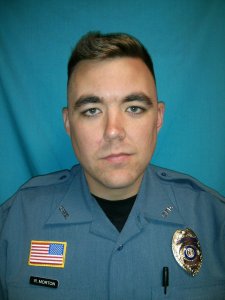 "The reaction of occupant of the Grandriver St. home was catastrophic and could not have been anticipated," Scott said in the statement.
On Wednesday, officials said the Clinton officers were actually sent to the wrong house. Further investigation traced the phone number from the 911 call to a Windsor, Missouri, address instead.
Henry County 911 Emergency Communications, like many dispatch centers around the country, uses the Master Street Address Guide database, which is maintained by an independent company, to pinpoint the location of a 911 call.
Scott said the system repeatedly indicated the Clinton home, but an error in that system is what officials now suspect might have caused the 911 location error.
"We now believe this may have been due to an error in the Master Street Address Guide database," Scott said in the statement.
The 911 board chairman said occasional errors have been found in the system in the past, and they've been corrected.
But Scott said the combination of a possible error and not being able to speak to the caller created a "perfect storm" for a 911 center.
"We are not tasked with maintaining the Master Street Address Guide; only the independent company that provides the tracing services can do that," Scott said.
The official cause of the location mix-up is still under investigation. Scott said Henry County 911 will continue to fully cooperate with the Missouri State Highway Patrol's investigation.