This is an archived article and the information in the article may be outdated. Please look at the time stamp on the story to see when it was last updated.
OLATHE, Kan. — Olathe mourned the shooting death of Srinivas Kuchibhotla Friday night. Federal investigators are now trying to figure out if the restaurant shooting that wounded another Indian man and a good Samaritan was a hate crime.
Friday's vigil and community healing event took place at First Baptist Church of Olathe. It's right across 151st Street from Austins Bar and Grille, where Adam Purinton is accused of killing Srinivas Kutchibhotla, 32, and wounding Alok Madesani, 32, and Ian Grillot, 24.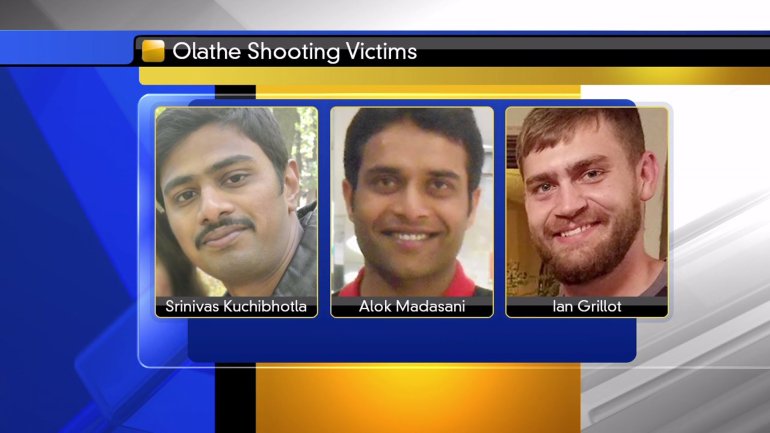 Small children were outside the church Wednesday drawing with sidewalk chalk when they heard the hail of bullets at Austins. Rains have already washed away those drawings. Friday, faith leaders from across the area tried to wash away people's tears and fears.
"As a community we are shocked, we are saddened we are devastated," Olathe Mayor Michael Copeland told a crowd that overflowed out of the church sanctuary.
If the FBI investigation reveals it was a hate crime, it would be the kind of tragedy Johnson County experienced three years ago. Laura Gilman counseled shaken community members after the Jewish Community Center shooting.
"Unfortunately we know what it's like to be victims of a hate crime, so we want the Olathe community to know, the minority community that we are with them we stand with them," Gilman said from inside a room at the church filled with "professional listeners."
Before the candlelight vigil, children spread messages of hope and posted them on a board that read "Give what you can take what you need." They planned to deliver the message board to The Indian Association of Kansas City which will have its own vigil Sunday at Olathe Bible Conference Center at 5 p.m.
"It takes a long time to get out of the shock to get out of the shock that the community has been in, nothing like this has happened in this community before," IAKC President Sridhar Harohalli said.
But just like the community came together in Overland Park, Olathe's mayor said he expects his city to show how much they treasure Olathe's diversity.
"It's going to take some work, it's a scary time," Gilman said.
"It's home to me, it's home to me then, it's home to me now, it's home to me forever," Harohalli said.