This is an archived article and the information in the article may be outdated. Please look at the time stamp on the story to see when it was last updated.
OLATHE, Kan. — A woman says she watched in horror as a driver took out a knife and stabbed her dog to death after hitting the animal in his pickup truck. Olathe Police had been looking for the driver as part of an animal cruelty investigation, and say they know who he is on Friday afternoon:
We have identified the individual involved in the animal cruelty investigation. The case remains under investigation.

— Olathe Police (@OlathePolice) November 2, 2018
Kirstyn Barlow was taking her four children and two dogs for a play date Thursday afternoon when her beloved chihuahua "Poochies" ran into the street.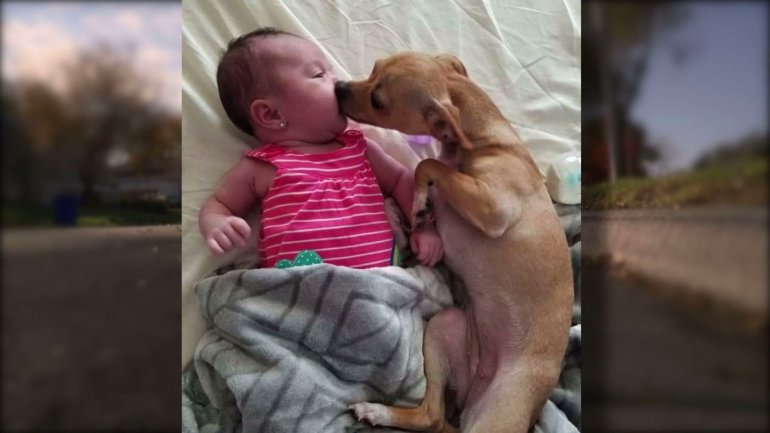 Barlow says she saw a pick up truck strike the back legs of the dog. She says the driver, captured on video by her home security camera, stopped a few houses down, and went to pick up the dog. Barlow thought the driver was trying to help Poochies, but instead she and her children say they were stunned to see him pull out a knife and then stab Poochies through her neck.
"After he did what he did to Poochies, I had to rush (my kids) inside because I can't believe that he did that," Barlow said. "He brought her down and dropped her down in front of the kids like it was nothing, like he didn't care. He just wrapped her in a tarp on the side of my house, like an old paint tarp that was moldy. He was like, 'She's gone. There was nothing I could have done. I had to put her out of her misery.'"
Barlow says she's not convinced her dog could not have been saved. She says she would have liked to have taken Poochies to the veterinarian to try and save her, but the driver never gave her a chance. The family buried the pet Thursday night, but police asked them to exhume the animal so that it can be examined by animal control officers Friday to determine the nature of Poochies' injuries.
Police do consider this an animal cruelty case, FOX4 will identify the man when and if he's formally charged.
Barlow says she doesn't want anything from the driver, just for him to realize that stabbing Poochies should not have been his call to make. She says she's grieving for the dog the same as the death of a family member.