This is an archived article and the information in the article may be outdated. Please look at the time stamp on the story to see when it was last updated.
OLATHE, Kan. -- An Olathe man is charged with exposing himself to a woman while driving. Police now want to know if the suspect is the same man who committed similar crimes at metro businesses just two months ago.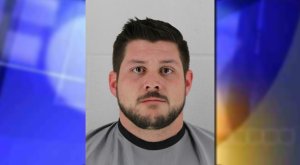 Matthew DeLair, 27, is charged with committing a lewd act while behind the wheel of his car.
In a Facebook picture, a smiling Matthew DeLair is seen standing by his wife -- an Overland Park police officer of three years.
But Matthew now finds himself on the wrong side of the law after he was taken into custody for what he is accused of doing early Friday morning, one day before his 28th birthday.
Investigators said around 12:30 a.m., a woman called Olathe police and said she was driving her car near 119th and Strang Line Road, when Matthew DeLair exposed himself to her.
Right now, police aren't releasing any more details, only saying DeLair was also in his car at the time of the alleged incident.
A police spokesperson told FOX 4 DeLair was arrested a short time later at his home.
Prosecutors later charged DeLair with a misdemeanor count of lewd and lascivious behavior.
During a video arraignment this afternoon, DeLair didn't say much. DeLair's lawyer, however, pleaded "not guilty" on behalf of his client.
About an hour later, Matthew DeLair bonded out of jail. As FOX 4 approached to speak to DeLair, he hopped over this small concrete barrier and took off.
"You want to say anything about the allegations you're facing?" FOX 4's Robert Townsend asked, but DeLair would not respond.
Meanwhile, police said they're still investigating whether Matthew DeLair is the same man seen here in surveillance photos of a man suspected of exposing himself in January.
Police said that suspect exposed himself to three women at three different Olathe businesses including a Dollar General store on Santa Fe, and at a Target store also on Strang Line Road.
Police said these surveillance photos show a suspect walking inside the target.
"Was that you even in January?" FOX 4's Robert Townsend asked DeLair. Again, no response.
Perhaps, he will talk more when he goes back to court next Thursday.