This is an archived article and the information in the article may be outdated. Please look at the time stamp on the story to see when it was last updated.
OLATHE, Kan. — An Olathe baby girl who had the measles is feeling all better now, but her mom is worried about other people who aren't vaccinated.
Earlier this week, the Johnson County health department said three babies from the same day care came down with the measles. On Friday, the Kansas health department said the number of cases has increased to seven.
Hanna Meisinger's 11-month-old daughter Lyric was one of those initial three babies. Meisinger said her daughter went to KidZone Learning Center at the Olathe Weslyan Church.
"It broke my heart just seeing her like that," the Olathe mom said.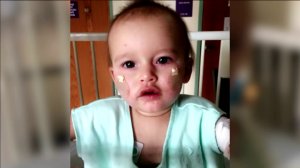 Lyric had a 102-degree fever for days. Meisinger saw her daughter's lips swell and a rash spread over almost her entire body. She took Lyric to the doctor, who said she had a cold and thrush. They gave her medicine, but Lyric wasn't getting any better.
"We were worried about her getting dehydrated," Meisinger said. "She was losing weight. She lost over a pound in a matter of days because she wasn't able to eat or drink."
Eventually, doctors admitted Lyric to Children's Mercy. They learned she had measles.
Lyric is healthy now and got approval from the health department to go back to day care.
" I don't know if she got it at the day care or anywhere else we went to," Meisinger said. "But I know that she would have gotten it from someone that's not vaccinated."
Next month, Lyric will have her first birthday and will be old enough to get her MMR vaccine. With her own daughter healthy, Meisinger is thinking about other kids and hopes parents will choose to vaccinate their little ones.
"The only thing I'm really worried about now is the other babies that were in her room that had contact with her," Meisinger said.
The Kansas Department of Health and Environment said so far this year, there have been seven reported cases of measles in the state. That's up from two cases last year and none in 2016.
Lougene Marsh, director of the Johnson County health department, said if you think you've been exposed to the measles, stay at home and call your physician.
"You can be able to transmit the disease for a full day before any of the symptoms appear," Marsh said.