This is an archived article and the information in the article may be outdated. Please look at the time stamp on the story to see when it was last updated.
OLATHE, Kan. -- Neighbors in Olathe are telling two very different stories about how one dog ended up dead and now Olathe police are investigating.
On Tuesday, the dog's owner, Donna Limbaugh set up a small memorial to her tiny dog, Precious.
Limbaugh says last week she was sitting on a bench with her dog on a leash when her neighbor walked by on the sidewalk with his dog, Claire.
Limbaugh admits Precious started barking at them and claims the neighbor, Carl Henrichson started stepping on Precious.
"And kicked the dog, up into the air, I would say 4 feet high, landed out into the street," Limbaugh described.
Henrichson says that's not exactly how it happened. He says he was walking Claire, who's 17 years old, before taking her in for surgery.
He says Precious attacked them and claims Limbaugh did nothing to intervene.
"I  had control of my dog but she didn't have control of hers," Henrichson said.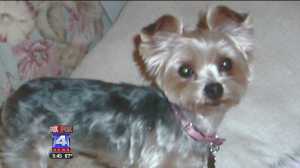 While Limbaugh claims Henrichson kicked and stepped on Precious, he denies it.
"As soon as I stepped on the dog I released the dog. I know she's characterized as if I stepped on it. I pounded on it or I forget what her exact words were, but that's not what happened," Henrichson said.
Limbaugh remembers it differently:
"It reminded me of someone that would put their foot down on a bug and crush a bug. That was my immediate feeling at the moment," she said.
Limbaugh says she scooped up her dog, rushed precious to an emergency vet, but Precious was put to sleep because of the severe injuries.
A police spokesman said Henrichson signed two citations against Limbaugh for not leashing her dog and for her dog attacking other animals.