This is an archived article and the information in the article may be outdated. Please look at the time stamp on the story to see when it was last updated.
OLATHE, Kan. — It's a perfect match when fun leads to learning.
Paws Abilities is baking up some tasty futures by helping people with developmental disabilities build their resumes.
The Johnson County nonprofit, an offshoot of Inclusion Connections, combines a job training center for people with special needs with a dog treat factory. A dozen participants enter the work space each week, where they gather skills that they can apply toward their future jobs.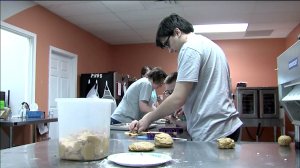 The employees in the kitchen prove that working in a bakery can be a lot of fun. They're often heard jamming to 80's hair bands or singing Christmas carols as they work.
As part of their training, these young adults create and sell all-natural dog treats and toys to pet owners who come calling on their retail location off Santa Fe Road.
"Every one of us loves dogs," said Jennifer Beruan, Paws Abilities program coordinator.
Beruan said as the dog treats are baked, hireable employees are grown since the Paws Abilities production floor runs just like a business.
"We work through all of the issues they would face in a typical job, so that when they leave our program, they're ready to be an amazing employee," Beruan said.
The treats and toys are evidently popular. Paws Ability's store had several customers while FOX 4 cameras were in attendance Wednesday morning, including directors from a local pet boarding service.
Beruan said the real world experience participants are receiving is more vital than peanut butter dog biscuits. Participants don't receive any money, but they're building a resume.
"We've branched out into different types of treats and toys, so they're gaining lots of different skills," Beruan said.
Program participants, such as Olathe's Matthew Horn, know the program works. He's one of Paws Abilities success stories, having recently gained employment at a local restaurant. The 21-year-old said he dreams of working for the local police department.
"I have so much fun," Horn said. "I want to work as a dishwasher or at a police station because you can get paid."
"I like Paws Abilities because I like doing it," 22-year-old Halie Strickler said. "I like making treats, and I like it here so much, and this is great."
The dog treats never go to waste either. Beruan said Paws Abilities is about to donate a bunch of them to some local animal shelters. However, the real joy arrives when one of these participants lands that first paycheck.
Inclusion Connections, Paws Abilities' parent agency, has it's annual benefit fashion show coming up on February 22nd.