This is an archived article and the information in the article may be outdated. Please look at the time stamp on the story to see when it was last updated.
LOXLEY, Ala. — A bus carrying Texas high school band members home from Disney World ran off a highway and plunged into a deep ravine before dawn Tuesday in Alabama, killing the driver and injuring many passengers, authorities said.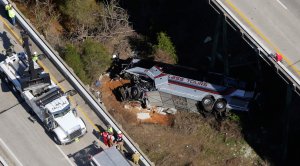 First responders used ropes to rappel down the 50-foot ravine in the middle of Interstate 10 to reach them, and then had to cut some of the victims free from the wreckage, said Baldwin County Sheriff Huey Hoss Mack, who confirmed the fatality.
About 45 people were on board, and were brought to 10 hospitals in Alabama and Florida, either by helicopter or ambulance, he said.
The person killed was the driver of the bus, said Capt. John Malone, who commands state troopers in the Mobile district.
The sheriff said it wasn't immediately clear what caused the bus to enter the grassy median, which abruptly ends at a steep embankment where the interstate passes over Cowpen Creek. The crash happened at about 5:30 a.m., crunching the bus and leaving the passengers exposed to chilly temperatures.
Rescuers used every piece of equipment on every truck to reach them, Mack said: "This is what we call an all-out."
Josh Torres said his 17-year-old sister, Bianca Torres, was sitting at the rear of the bus when the impact of the wreck tossed her forward several rows. She had pain in her legs and bruising but was otherwise unscathed, and taken to a hospital for evaluation, he said.
"All that she remembers is that she felt a bump, then a crash and then the bus flipping onto its side," Torres said.
Jesus Tejeda came upon the scene as he drove to work, finding dozens of police cars and ambulances stopped on the highway near the overpass. He looked down to see the bus lying on its side near the base of a concrete embankment, its front end crumpled.
Tejeda said he watched four people being removed from the wreckage, and couldn't hear any yelling or sounds of panic. "Thank God they were alive but (they) had to take them on (a) helicopter," he said in an interview conducted by instant messages.
Norman Haynes of Victoria, Texas said his daughter, 18-year-old trumpet player Makena Campa was on the bus with her mother. He spoke with both of them after the crash and was on his way to the hospital.
"My daughter was really groggy because they had her on some very heavy pain medication," he said. "They sounded kind of shook up. I think I'd be shook up as well."
The interstate was closed down in both directions as the injured were flown to hospitals including emergency rooms in Mobile and Pensacola, Florida, plus a free-standing emergency room in rural Baldwin County, said Chris Elliott, a Baldwin County commissioner who helped out at the county emergency management center following the crash.
"Everybody is being transferred to a hospital to at least be checked out," said Elliott.
Torres said his brother, also a member of the Channelview band, was on another bus not involved in the accident. That bus stopped after realizing what happened, but did not allow the students to get off, and eventually continued home from Orlando, where the band performed at a music festival on Saturday.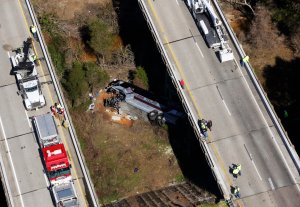 Only hours before the crash, the band's Facebook page had been updated to show a large group posing outside Disney World.
Channelview Independent School District spokesman Mark Kramer said the district had only limited details in the immediate aftermath and was in contact with law enforcement in Alabama to get more information.
The bus charter company, First Class Tours of Houston, pledged to help local authorities investigating the crash in a statement that offered prayers for injured and their families.