This is an archived article and the information in the article may be outdated. Please look at the time stamp on the story to see when it was last updated.
KANSAS CITY, Mo. -- A 45-year-old man was shot and killed in downtown Kansas City Wednesday morning. The shooting happened shortly before 7:30 a.m. near 12th and Oak streets. Police said the shooting was random, saying an altercation escalated, ending in the man's death.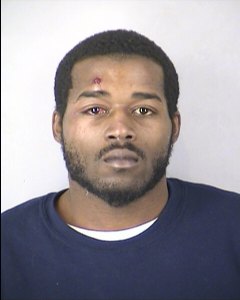 Late Wednesday afternoon, Jackson County Prosecutor Jean Peters-Baker announced charges against Rickey C. Battee, 25.  Police apprehended him after a brief foot chase minutes after the shooting.
He's charged with murder in the second degree and armed criminal action.
The victim has been identified by family members as Jai Scott, 45, who was a  husband of 27 years and a father of five. Scott was transported to an area hospital with life threatening injuries. He died during surgery.
While the shooting happened near 12th and Oak streets, near City Hall, police said the shooting was random and no employee of City Hall was targeted.
Scott's daughter said her dad was dropping her mother off, who works as a Taxpayer Specialist for the city, for her job at City Hall.
Police said Scott and the gunman involved in the shooting did not know each other.  According to police and family members of Scott, the gunman reportedly kicked the victim's vehicle when he walked by. Scott then got out of his vehicle and confronted the man who kicked his car. Police said the man who kicked the car then pulled out a gun and shot Scott.
Scott's daughter says her father was shot three times; in the back of his head, his stomach and hip. She says he died at the scene.
A witness described what she saw to FOX 4's Kerri Stowell.
"I saw the one that got shot run across the street," the witness said. "They were fighting. It was a throw-down fight. … I didn't expect for them to just pull out the gun. Soon as the fight was over, he got off the ground, held the gun down, he said, pow, pow, pow – at least three to four times. The next thing you know, the victim was on the ground."
Traffic in both directions was temporarily closed from 10th to 12th streets Wednesday morning. Forte tweeted the crime scene spanned nearly two city blocks. Police used a K-9 unit to search and recover the gun used in the shooting.
Prosecutors requested a $250,000 cash only bond for Battee.
Earlier reports: