This is an archived article and the information in the article may be outdated. Please look at the time stamp on the story to see when it was last updated.
KANSAS CITY, Mo. -- A Kansas City man has been convicted in the 2015 shooting of a 3-year-old boy who was killed in his sleep.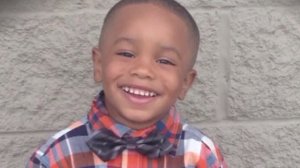 A Jackson County jury found Dominque Marchbanks, 26, guilty Tuesday of second-degree murder, unlawful use of a weapon and two counts of armed criminal action in the death of Amorian Hale.
The 3-year-old Kansas City boy died in his bed on May 31, 2015, after more than 20 shots were fired into his home. One of those bullets hit and killed Amorian.
According to court documents, the suspects believed  Chris Hale, Amorian's father, killed their loved one, D'Shawn Marchbanks, in January 2015, and shot at his home near 67th and Walrond in retaliation.
Two other men, Sulif Wilkins and Sir'Terry Stevenson, have also been charged in the shooting.
Both men are still awaiting trial. Wilkins' is scheduled for December; his next pre-trial hearing is scheduled for Oct. 11. Stevenson's trial has not been scheduled yet; his next pre-trial hearing is set for Dec. 12.
The Jackson County Prosecutor's Office said Marchbanks will be sentenced at a later date.